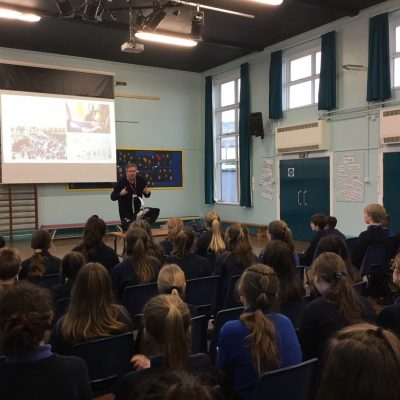 JMDA Inspire Local School With Exciting Design Project
---
Worcestershire based JMDA Design are thrilled to be supporting Abbey Park Middle School in Pershore and their Year 7 Design Technology classes, for the duration of the academic year. Students have been given a project to explore how to design a unique product that has real life application, an everyday product for someone who struggles to grip. JMDA hope to inspire the students and give a true insight into what a career in design and engineering can offer.
With onsite visits from the JMDA team including presentations and mentoring, 64 pupils in Year 7 at Abbey Park Middle School will gain a greater understanding of the full product design process from concept through to manufacturing, with a real-life design challenge. In addition to practical onsite support in the classroom, JMDA are funding a site license of SOLIDWORKS CAD software. SOLIDWORKS is the most widely used 3D design software in the world and is an innovative, highly technical learning tool used for design and product development.
Derrick Barker, Creative and Managing Director of JMDA Design, explains "Schools are more focussed than ever on promoting the uptake of science, technology, engineering and maths (STEM) subjects. It's what's needed in order to address the skills shortage we currently face in these industries. There's more need for graduates of STEM subjects, and we must meet this demand, or we are at risk of restricting industry growth." He adds, "Supporting local schools brings a real joy and we hope more students will be inspired towards a fulfilling career in industrial design or engineering."
Maggi Davis, Curriculum Leader Art & Design, Abbey Park Middle School, is delighted with the support saying "Having a local company to come into the school and invest time and resources, brings the curriculum to life! There is nothing better than seeing a student expressing new ideas brought about by a new project. I'd like to take this opportunity to thank Derrick and the team at JMDA for bringing such an inspiring mix of resources to our Year 7 group."
JMDA are a product design consultancy who have a particular specialism in the development of child car seats but also design products for the electronic and consumer markets. Besides supporting Abbey Park Middle School this academic year, JMDA continues to offer placements to local students and school leavers to gain invaluable work experience to expand their future career choices.
For more information about JMDA Design and their support of Abbey Park Middle School, please call +44 (0) 1386 426100, or email [email protected]