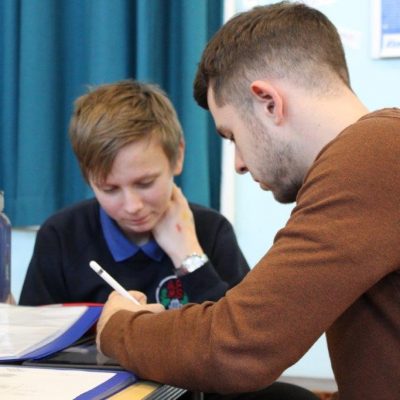 Abbey Park Project Update
---
JMDA staff are thoroughly enjoying supporting students at Abbey Park Middle School with a challenging design project for a useful product that will offer support to people who find it hard to grip.
Staff from JMDA recently returned to Abbey Park Middle School to discuss with the students the progress of their design projects. Last time they met, students were asked to research the market, look at and assess existing products, come up with an innovative design solution and create a detailed mood board to capture their design ideas for a unique product that has real life application, an everyday product for someone who struggles to grip.
Earlier this month, Joseph, Rob and John from JMDA travelled to the school to meet with the product design students involved with the project. Staff split the 45 students into three groups depending on the type of solution they had designed in response to the design brief. Each member of staff then took a group and proceeded to talk in more detail about the students' designs, providing a neutral and encouraging opinion, raising thought-provoking questions and suggesting ways improvements could be made.
Amongst some of the great ideas suggested by the students were hairbrushes, golf clubs, toothbrushes, dog leads, games consoles and cutlery, all of which could prove very useful to individuals who struggle to grip properly due to an injury, deteriorating age or health conditions such as Parkinson's disease.
Having sketched their ideas, the students will move on to the next part of the design phase which is to make a model of their design out of materials such as cardboard or clay. The students may choose to add DIY additions to existing products and have been encouraged by staff to take these models to family and friends to test. Through primary user testing, the students can get experience of how the products will work, identify any design issues to be altered and capture photographs of the product being used in a real-life application. In doing this, the students will then be able to make any amendments to their designs before progressing to 3D modelling.
Engineering staff from JMDA in their next visit to Abbey Park, will introduce the students to the basic software skills needed to build their designs in SOLIDWORKS, a specialist 3D CAD software package used to model real life objects and test mechanisms, which JMDA has generously provided the educational license funding for.