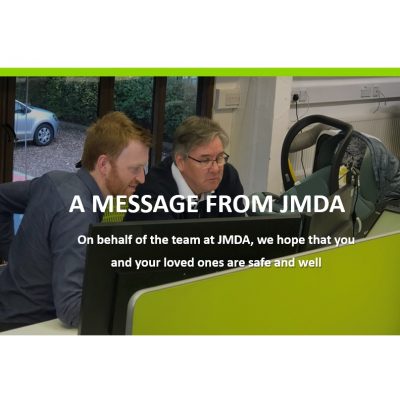 A message from JMDA
---
On behalf of the team at JMDA, we hope that you and your loved ones are safe and well. 
All staff at JMDA UK offices and JMDA-DGS Italy, are now working from home.  We would like to reassure everybody that we will continue to give the best service and commitment to our clients in these unprecedented times.
JMDA's Shanghai office is operational and our manager Jason Song continues to provide full support and maintenance to all projects.
Markets and industries will have to change and adapt because of the coronavirus, we will continue to support all clients and businesses across the globe, providing a seamless service to meet your R&D needs. JMDA's Design team are ready for any challenges, ensuring that your product design projects will keep you ahead of the trends and ready to maximise every opportunity.
Founders and Directors of JMDA, Derrick and Cherril Barker say: "Coronavirus is now affecting people at all levels. Not only the health impact but businesses are having to adapt too. We're in unchartered territory but one thing is for sure, JMDA Design is still open for business. Please keep safe in these challenging times."
If you would like to discuss our current working policy, please call Derrick on +44(0) 7831 464044 or alternatively email [email protected]