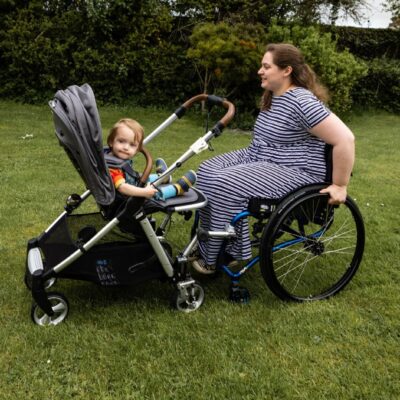 Designability partners with JMDA on 'game-changing' pushchair project
---
Designability has announced a new partnership with product design agency JMDA Design to support the charity's Pushchair for Wheelchair Users project.
Known for creating products to enable disabled people to live with greater independence, the national charity Designability will harness JMDA's 30 years' experience in the nursery industry to help bring independence to disabled parents with children.
Queen's Award winning JMDA will support Designability in the creation of the charity's wheelchair-attachable pushchair, enabling parents who are manual wheelchair users the opportunity to take their babies and young children out independently.
There are currently no products of this type widely available on the open market, yet there are over 16,000 parents throughout the UK alone who are manual wheelchair users who could benefit.
The key aim of the partnership with JMDA is to engage with interested companies to bring the accessible pushchair to market for the very first time. Ensuring a legacy of independence for disabled parents and carers.
Matthew Ford, Director of Design and Engineering at Designability said, "We are excited to be announcing this working partnership between JMDA and Designability which will offer a wealth of knowledge and resources to ultimately improve the lives of disabled people throughout the UK."
"The Pushchair for Wheelchair Users project is a game-changer that will help address one of the main inequalities disabled parents and carers face; the ability to take their babies and very young children out independently. We are extremely grateful to JMDA for their support and expertise which will help to bring this project to reality and we look forward to working closely with them."
Derrick Barker, Founder of JMDA Design said, "We are delighted to form a partnership with Designability, a charity which strives to increase independence for disabled people through innovative and practical design solutions. "
"At the core of our culture is the dedication to use innovative product design to solve everyday challenges and improve the lives of parents and children, so our goals are perfectly aligned. Using our knowledge of the global nursery and baby products industry, we are pleased to help bring their new pushchair for wheelchair users to fruition and shine a spotlight on the vital and important role that Designability plays in supporting disabled people."