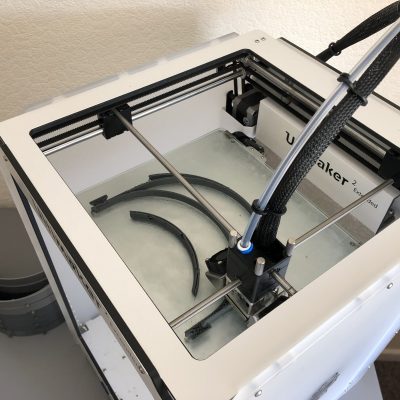 JMDA Help Produce NHS PPE Face Shields
---
As part of the global fight against the COVID-19 pandemic, JMDA Design have responded to the call to help produce much needed PPE supplies for the NHS, using their inhouse 3D printer.  Normally producing prototypes for product designs, the team at JMDA have switched to building headbands for face shields on their 3D printer, to support the fight against coronavirus.
Proud to back the initiative by SolidPrint3D to help print components for face shields, JMDA Design aim to produce as many headbands as possible on their 3D printer. Once the headbands have been produced, they will then be sent off for sterilisation and assembly, before being despatched to front line staff and healthcare workers who are in direct contact with coronavirus sufferers.
Chris Carter, Studio Manager at JMDA Design explains, "We've been so moved by the courage of our amazing NHS and keyworkers who are putting their lives on the line everyday to keep us all safe and care for those affected by coronavirus. The least we could do is to help produce headbands on our 3D printer and join many other businesses who are fighting this war together."
JMDA Design will continue to produce headbands for face shields on their 3D printer over the coming weeks, as part of their commitment to helping save lives. No one knows what the future holds but one thing is for certain, JMDA will be at the forefront in helping to protect all those heroes in the NHS and key workers.
For more information about JMDA Design's help to supply PPE to the NHS and key healthcare workers, please give Chris Carter a call on +44(0) 7831 464044 or alternatively email [email protected].