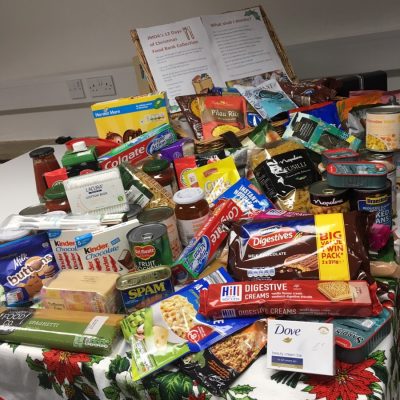 JMDA Spread Christmas Cheer With Local Foodbank Hamper
---
Staff at JMDA Design's Headquarters, based near Pershore, Worcestershire are spreading Christmas cheer having collected a large selection of non-perishable food items and toiletries and donated them to Pershore's community foodbank.
Keen to support the local community this Christmas, JMDA launched their 12 days of Christmas Foodbank Collection at the start of December. Staff were encouraged to donate one item of food or a toiletry for each of the 12 days of Christmas. The team have gathered together an impressive food hamper which they have donated to their local foodbank based in Pershore.
Cherril Barker, Director of JMDA Design, explains, "Our 12 days of Christmas Food Bank Collection was a great way of collecting a variety of items to donate to Pershore's foodbank. 1 in 5 of the UK population live below the poverty line and last year Pershore foodbank were able to provide 783 three-day emergency food supplies to people in crisis living in the local area. I'm extremely proud of the team who have very generously donated various items to fill our hamper." She adds, "Supporting the local community is really important to us here at JMDA. We're passionate about fundraising and regularly get involved with local community initiatives and events. Over the years, we've raised hundreds of pounds for different charities including Children in Need, Comic Relief and most recently, Brake, the UK's road safety charity."
Claire Lording from Pershore foodbank explains how JMDA's hamper will be used to support those living in Pershore and surrounding villages in need of food this Christmas. "People in our community go hungry for a number of different reasons. A simple box of nutritionally balanced emergency food can make all the difference to families with low income and experiencing crisis. It has been shown that foodbanks can help prevent crime, housing loss, family breakdown and mental health problems. We're very grateful to everyone at JMDA for donating these items and creating such a wonderful hamper. It will help to feed a number of families locally and ensure they don't go hungry this Christmas."
Pershore's foodbank covers the town on Pershore and the surrounding rural community.
For more information about JMDA Design and their support of Pershore's foodbank this year, please call +44 (0) 1386 426100, or email [email protected]