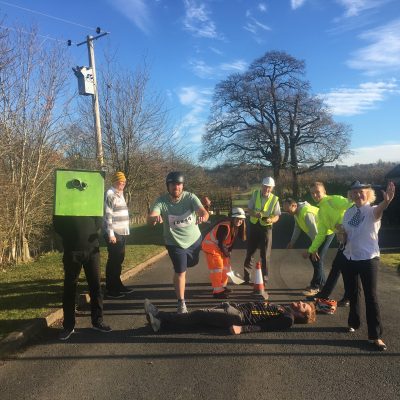 JMDA Stage Road Scene For Road Safety Week
---
Keen to support national road safety charity Brake and their recent Road Safety Campaign, staff at JMDA's Headquarters dressed as items from the road and staged their very own safety display to promote road safety and child restraint systems (C.R.S) safety.
Staff revelled in making their own costumes and came to work dressed as items from the road, intent on promoting road safety and particularly, the use of child car seats and booster seats. JMDA's 30 years' experience, skills and knowledge are firmly rooted in the child car seat industry and besides designing child car seats for all age groups, advise on design concepts, prototyping and simulation as well as legalities, regulation and certification when the product is manufactured. JMDA are also Associate Members of CLEPA, the leading voice of the EU automotive supplier industry whose main priority is to support road safety.
Talking of the recent event, Cherril Barker, JMDA's Financial Director explains "It was really great to see the team working together to support a very important national campaign. Here at JMDA we specialise in the full design of high quality and innovative child restraint systems. The safety of children is our priority and thus supporting Brake and their campaigns to raise awareness of road safety seems only natural." She adds, "The team had a fantastic time staging their very own road safety scene out on the car park. I was tasked with choosing the best dressed which was very difficult, there were some great outfits! Always keen to fundraise for charity and raise awareness of important campaigns, the team put a lot of hard work and effort into their costumes!'
Brake is a national charity who works with communities and organisations across the UK to stop the tragedy of road deaths and injuries, and support people bereaved and seriously injured on our roads. Running from 20-26th November, Brake's Road Safety Campaign aimed to raise awareness among the public, to stop road deaths and injuries, make communities safer and greener, and improve support for crash victims.
For further details about JMDA and their support of Brake, please call +44 (0) 1386 426100 or alternatively email [email protected]