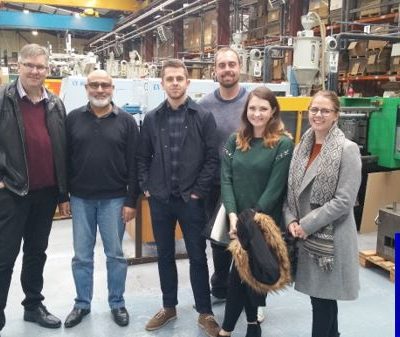 JMDA Visits Plastic Injection Moulding Company Firstpress
---
Keen to provide the team with a deeper understanding of the complex world of injection moulding, JMDA's Creative and Managing Director Derrick Barker arranged for members of the design team to visit Firstpress Plastic Moulders who are based in Birmingham.
JMDA believes in the continuous improvement of skills and training of the design team. Experiencing the real factory environment is critical to enable optimised design. Time away from the CAD screen and engaging with specialists working day to day with plastic materials, injection mould and mould manufacture helps to expand the knowledge within the JMDA team. Besides this it enables the design team to expand their understanding of the full process and create plastic parts and assemblies in their advanced design solutions for clients.
Rob Jones, Industrial Designer at JMDA says "Our trip to Firstpress was very insightful. Product design in general relies heavily on the use of Injection moulded components and services. Observing and understanding the real world of plastic moulding is so helpful. We can visualise the mould operation and the process going on. This is useful in helping us back at the office in the design process. There are so many things to consider, especially the potential opportunities to recycle the material which is great for the environment."
Djilani Daoudi, General Manager at Firstpress explains, "Firstpress is a trade plastic injection company with nearly 35 years of experience. Our customers benefit from the quality (approved ISO 9001:2015), lead time and value for money that we pride ourselves on, along with a willingness to go the extra mile when required."
Based just outside Birmingham city, Firstpress, have a highly experienced and dedicated team, who know exactly what it takes to design and manufacture commercially viable injection moulded products. Specialising in tool design and manufacture, sampling and prototype, moulding and assembly, Firstpress have worked on over 4000 projects for clients in over 16 countries worldwide and are looking forward to supporting JMDA with injection moulding manufacture and prototyping in the future.
Derrick Barker MD of JMDA wishes to thank Firstpress for being so accommodating and for the time given by the mould shop manager to inform the JMDA Design team and answer their questions. For more information about JMDA Design and their product design services please call +44 (0) 1386 426100, or email [email protected]