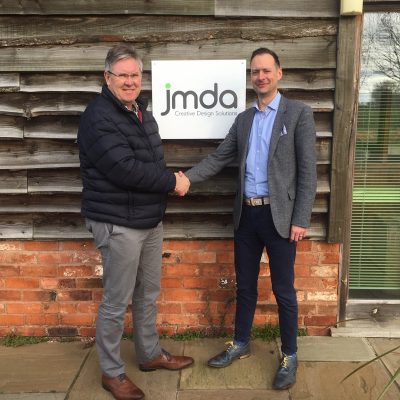 John Walters Joins JMDA Bringing Fresh Design Ideas to Explore New Markets
---
Staff at JMDA Design are delighted to welcome to the team John Walters, who as a Senior Design Engineer will be responsible for the mechanical design, tooling and production engineering of new nursery products as well as products for both the electronic and consumer markets.
Joining the team at the company's Headquarters in Pershore, Worcestershire, John brings with him a wealth of experience in the design of children's toys, including climbing frames and seesaw play equipment as well as specialist equipment for the medical industry. In his new role at JMDA Design, John will assist the team with the complex mechanical design of practical products which meet client needs, expectations and importantly, rigorous industry regulation.
Excited about his new role at JMDA, John explains "I'm very excited to be working with JMDA Design and to have the opportunity to use my design and problem-solving skills to create practical products for the real world that support the safety and wellbeing of the end-user." He adds, "Having worked for many years for a medical equipment manufacturer I have a sound understanding of industry regulation to ensure products meet critical safety guidelines. I'm looking forward to bringing fresh ideas to the table, designing innovative products for the nursery market and supporting JMDA as they venture further into user centric, brand aware consumer product design and mechanical design for specialist integrated electronic devices."
JMDA is an award-winning design consultancy with over 25 years' experience in new product development for clients in a number of different industries worldwide. The team's creative vision and technical excellence, coupled with a tailored, customer focussed approach to each project allows JMDA to deliver cutting edge solutions that exceed expectations.
For more information about JMDA Design and the appointment of John Walters, please call +44 (0) 1386 426100, or email [email protected]