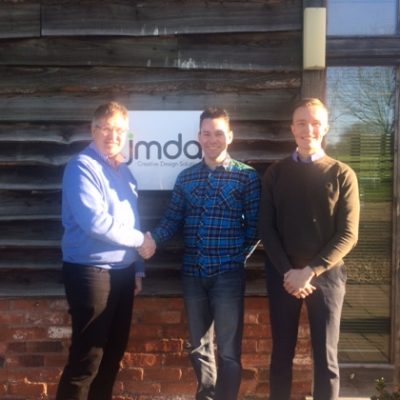 Two New Faces Join The JMDA Team
---
World-renowned product design consultancy JMDA Design are thrilled to welcome to the team new recruits Phil Tierney and Joseph Weaver whose creative flair and customer focused design will support JMDA in executing and delivering innovative projects to completion.
Having relocated from Portsmouth to Worcestershire, Phil Tierney joins JMDA as a Senior Design Engineer. His strong understanding of manufacturing processes, primarily plastic injection moulding and metal fabrication will enable him to support JMDA with the challenges of car seat mechanical engineering. Phil will contribute to various phases of JMDA's product development process, drawing on his vast experience in consumer product design to engineer robust, feasible, manufacturable product designs from complex styling concepts.
JMDA are passionate about offering paid internships to help students and graduates gain a wealth of practical product design experience which can set them on the path to a long and rewarding career. Joseph Weaver joins the company as a Graduate Industrial Designer on a minimum 6 month internship. He is excited to be assisting the team with a varied array of projects and gaining experience in the industry. Joseph, who graduated from the University of the West of England, Bristol earlier this year with a Creative Product Design BSc has begun evaluating products with the aim of improving them for future developments. His passion is using his creative design skills to create dynamic concepts and developing high quality Photoshop renderings.
Senior Product Design Chris Carter, who was instrumental in appointing the new recruits explains, 'It is great to have Phil and Joseph join the team. The business over the last 12 months has increased significantly. There's a real energy in the team as we are working on number of global product design projects at the moment with even more in the pipeline. The hiring of new staff with the ability to think conceptually and share ideas will allow us to successfully manage these projects from conceptualisation through to full development.' He adds 'Phil who has strong 3D CAD skills and a deep knowledge of mechanical principles will be an asset to the team, as will Joseph whose positive 'can do' attitude and willingness to assist with CAD model making and design styling has been a tremendous support.'
To cater for their growing workforce and increasing number of global product design projects, the team at JMDA Design's Headquarters have extended their office space on their idyllic premises in rural Worcestershire.
For further details about JMDA and their new recruits, please call +44 (0) 1386 426100 or alternatively email [email protected]