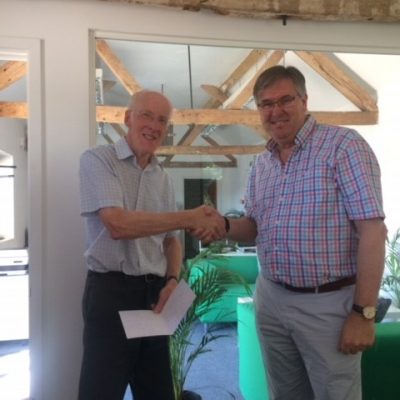 20 Years Service Award Presented To Andrew Peters
---
Senior Designer Andrew Peters celebrates 20 years with JMDA's Worcestershire based team, being awarded a long service award for continued excellence and hard work. Celebrating with colleagues at the company's headquarters earlier this month, Andrew is a key member of the CRS Team.
Andrew Peters joined JMDA Design in March 1998 and celebrates 20 years of service to the company this year. To reward his two decades of service and his dedication over the years, Andrew was presented with a holiday in the Lake District.  Andrew is an avid fan of water sports and enjoys sailing and canoeing in his spare time; he loves the Lake District and being outdoors. He is thoroughly looking forward to a relaxing break away to a luxury hotel later this summer with his wife.
Senior Designer Andrew Peters explains, "It has been a privilege to be part of JMDA's journey over the last 20 years. I've seen so much change over the years, particularly in the way we design, and the evolution of technical software used to create detailed sketches, renderings and outline CAD models." He adds, "It's wonderful to have recognition for my hard work and efforts over the past two decades. We have a fantastic team and a varied skillset. We're all very keen to help one another when required and share our knowledge and experience. It's this sharing of information that develops us as professionals and supports those just starting out in their careers. If the last 20 years is anything to go by, JMDA will continue to flourish as leaders of the industry, designing even more progressive CRS and juvenile products for a global market."
Creative and Managing Director Derrick Barker together with his wife Cherril founded JMDA Design in 1991. With a vision to help their clients grow and succeed through innovative, impactful design, they have steadily grown the businesses over the years and besides their HQ in Worcestershire, UK have offices in both Italy and China. The Company's integrated process and worldwide network allows them to turn great ideas into realised and profitable product solutions. The team's fundamental understanding of the full process of design has enabled them to lead the industry in the design of child restraint products and has contributed to their acquisition of a prestigious Red Dot Award for Design Concept in 2016.
For further details about JMDA and their innovative product design solutions, please call +44 (0) 1386 426100, alternatively email [email protected].