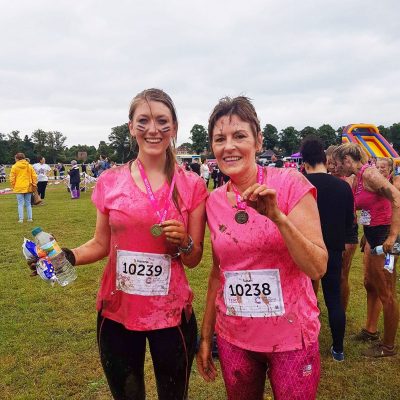 Double Race Achievement For Helena
---
CRS Engineer Helena Lewis last weekend participated in not one but two ladies only Race for Life events and raised a total of £245 which will be used to help fund research into cancer.
Helena (pictured here on the left) who joined JMDA in October 2014, recently joined friends and family members in the Race for Life 'Pretty Muddy' event held at Worcester Racecourse last Saturday. 'Pretty Muddy' is a 5K muddy obstacle course made up of a variety of challenging obstacles that require the runner to climb over, crawl under, and charge through. And if one event wasn't enough for Helena, she also participated in the 10K Race for Life in Cardiff the day after, completing the race around Bute Park in the heart of the City in an impressive 54 minutes!
Talking of the event, Helena explains, 'Cancer Care Research UK is a charity close to my heart. The work that they do supports so many families across the country. It's extremely important that funds continue to be raised to allow further research in to cancer treatment'. She adds 'I've never done a muddy obstacle course and its always interested me to participate in one. I saw an advert locally for 'Pretty Muddy' in Worcester and had to sign up. It wasn't until after I'd completed the online application that I realised it was the same weekend as the Cardiff Race for Life 10K! Doing both on the same weekend was an extra challenge! I love running in my spare time and really wanted to challenge myself to run 10K in less than an hour! I'm so pleased with my time of 54 minutes and pleased to have fundraised a total of £245 for the charity!'
JMDA is an innovative global consultancy specialising in the design, development and compliance of Child Restraint Systems (C.R.S.). As a CRS Engineer based at the company's Headquarters in Pershore, Worcestershire, Helena supports the team in taking designs from a concept stage through to full manufacture. She creates high spec visual concepts to communicate CRS designs to the team and produces detailed graphics, sketches and renderings to illustrate her creative ideas to clients.
To donate to Cancer Care Research UK and support Helena's recent sporting achievements, please visit her just giving page https://fundraise.cancerresearchuk.org/page/susans-fundraising-page-1318