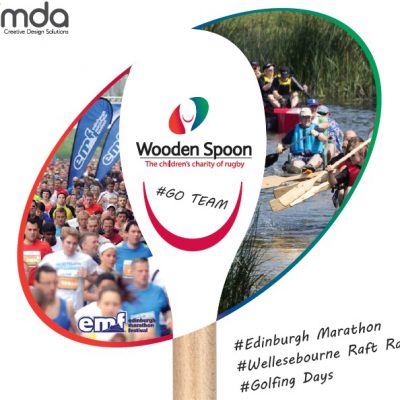 JMDA Design Create A Stir With 25th Birthday Celebrations
---
Worcestershire based award winning product design agency, JMDA, are pleased to be celebrating their 25th year in business. To mark the occasion, they have become Corporate Sponsors of Wooden Spoon the children's charity of rugby and are planning fund raising events throughout the year which are sure to create a stir within the community.
With their Head Office near Pershore and secondary office in Shanghai, JMDA Design very much continues to be a family run business, just like it started in 1991. They will be celebrating their 25 anniversary with a series of fund raising activities with the charity Wooden Spoon, who support disadvantaged and disabled children and young people, and are solely reliant on public fundraising and donations.
Derrick Barker, Managing Director of JMDA, explains why Wooden Spoon is close to his heart – "I am proud we can celebrate 25 years in business and have always supported Wooden Spoon through membership as I have a keen interest in Rugby. We would now like to take our commitment to the next level in a Corporate Sponsorship Package to further aid the fantastic job they do in helping disadvantaged children in Worcestershire." He adds "Our events programme that we've developed with Wooden Spoon is very exciting, with the whole team getting behind the charity!"
Founded in 1983 the charity Wooden Spoon has over 35 regional volunteer groups across the country, who work tirelessly to raise funds to help children in their local community. They are one of the country's largest funders of respite and medical treatment centres, sensory rooms, specialist playgrounds, sports activity areas and community based programmes in the UK.
With a series of events, including a raft race, marathon, golf day and clay pigeon shoot, JMDA aim to donate a significant figure to the Worcestershire region, which will benefit those in the local area. There is a strong association with safety and the care of children as JMDA's dominance in child car seat design has been demonstrated in the last 25 years, and they continue to develop new partnerships with manufacturers and major retailers. They provide design and engineering expertise to deliver market ready solutions across numerous industries and continue to grow and expand, taking on new staff as a long term growth strategy.
For more information about JMDA's upcoming charity events or their products and services please contact [email protected] or call +44 (0) 1386 426100.