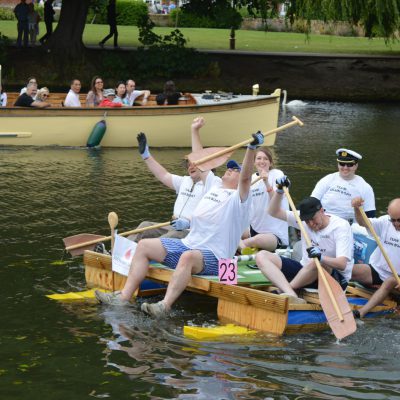 Victorious Usain Boat In Charity Raft Race
---
JMDA Design, based in Pershore, Worcestershire, raised a grand total of £630 from a seven hour raft race in support of Wooden Spoon Charity and Blackmarston Special School's, new road safety garden in Hereford.
The morning of Sunday 24th July saw 53 homemade rafts battle the waters and race down the river Avon hosted by Wellesbourne & District Lions Club with six troopers from JMDA Design in their first raft race. With lifejackets on, homemade t-shirts and headbands to add to their racing costume, they bravely sat in their meticulously hand-built raft, humorously named Usain Boat after the famous sprinter, and rowed down the River Avon.
Beginning in the small village of Wasperton, the seven and a half mile challenge featured two weirs, narrow areas and twists and turns, before finishing in Stratford-upon-Avon. The pressure was on, not only to win, but also to ensure their raft lasted the distance.
Originally planning on a 4 hour journey, JMDA finally crossed the finish line 7 hours after setting off. After getting stuck in reeds, jumping out at weirs, emptying barrels with leaks but always remaining positive, Usain Boat came in last place at 5pm.
Chris Lester, key designer of the raft, says, "The team were fantastic on board and never gave up on our goal of finishing the race no matter what the circumstances. We all had a great laugh, got extremely wet and definitely learnt a lot for next time! The support we had from friends, family and spectators was fantastic and all on board want to say a big thank you to everyone who supported us through donations and encouragement. We hope the money helps bring Blackmarston School closer to building their sensory park and we all look forward to the results."
Blackmarston School focus on disabled children and those with learning difficulties, based in Hereford. In previous years the race has raised over £750,000. JMDA design are celebrating their 25th anniversary, and specialise in child safety design. The close connection between their work and the work Wooden Spoon Charity do has a special place with JMDA, and the company are now corporate sponsors, with more charity events planned in the coming future.
For further information regarding JMDA's charity events email [email protected] or call +44 1386 426100.