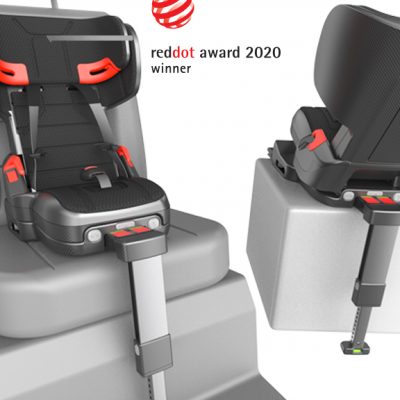 JMDA Design Wins Red Dot Award For Tinyseats Design Concept
---
JMDA Design are delighted to announce that they are the proud winners of a coveted Red Dot Award: Design Concept 2020, for the high design quality of the Tinyseats child car seat project working with Tinyseats Europe AB. Arguably the highest accolade within the product design industry, JMDA win their latest child car seat design award for combining compactness, fast installation and innovative design, yet still developed with integrity and first class safety.
A total of 4,170 entries from 52 countries around the world were submitted in the Red Dot Award Design Concept category, whereby the JMDA Tinyseats design project was one of only 188 concepts to win a Red Dot Award. Putting this into perspective only 5.5% of entries win an award, thus an amazing achievement to be proud of, by all parties involved.
The Tinyseats child car seat from Tinyseats Europe AB in Sweden and JMDA Design whose Head Office is based in Worcestershire UK, worked together on the design concept since 2018. This product design project was driven by a gap in the market to provide a portable rear and forward facing child restraint system (CRS) and the result is that the Tinyseats CRS is the first compact, lightweight, foldable and convertible car seat for children from 9 months old.
Derrick Barker, Creative and Managing Director at JMDA Design explains, "We are thrilled to win another Red Dot Award for one of our Design Concepts. Working with the team at Tinyseats has been a real pleasure, as they strive to find new and innovative ways to make life easier for both parents and taxi businesses in urban areas. The passion in both the teams at JMDA and Tinyseats to produce a high-end design which is focused on safety, is clear to see in the Tinyseats end product".
David Sandgren, Director at Tinyseats says "We're proud to get the Red Dot before we have even reached the market and help facilitate a new way to own and utilise cars, in the new sharing economy. Tinyseats is our first step in the journey to redefine child safety in shared vehicles and we have the support of an inspiring global team with JMDA Design, helping bring our ideas to fruition."
Multi award-winning product design agency JMDA, are no strangers to winning awards, having previously won a Red Dot Award for a toddler car seat design concept in 2016. Also an International Design Award in 2018 and German Design Award in 2019 for a compact booster seat. Further success also came in 2019 when JMDA was awarded a prestigious Queen's Awards for Enterprise for International Trade. Having designed over 100 child car seats since being founded in 1991, JMDA are considered to be the global leaders in innovative CRS design.
TinySeat's vision is to make everyday life easier for parents with an active lifestyle through smart design and easy-to-use products. The idea behind the child car seat came from a frustrated father in Singapore, who lacked a secure rear-facing car seat that was easy to mount in rental cars and taxis. The product is created based on a specific need and meets new requirements for a modern and active lifestyle.
For more information about JMDA Design winning the Red Dot Award for the Tinyseats Design Concept 2020, please give Derrick Barker a call on +44 (0) 1386 426100 or email [email protected]. For more information about Tinyseats Europe AB contact David Sandgren at [email protected] or email Magnus Blom at [email protected].