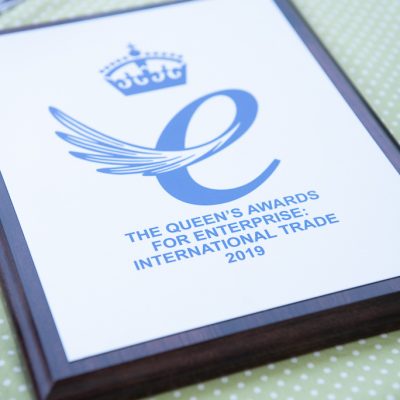 JMDA Wins Prestigious Queen's Award For Enterprise 2019
---
JMDA Design announced today that they have won a prestigious Queen's Award for Enterprise 2019 for International Trade. Honoured to be recognised for their outstanding contribution to child car seat safety globally, JMDA is one of only 201 organisations in the UK to be recognised for excellence with a Queen's Award for Enterprise this year.
Winning a Queen's Award for International Trade 2019 is the pinnacle of the last 28 years of innovative product design, with over 95 car seats having been designed by JMDA to date. Building a reputation for designing children's car safety seats, which strive to increase safety and reduce serious injury in road traffic accidents, has enabled JMDA to become a global leader in the Child Restraint System (CRS) industry. Demonstrating impressive growth over the last three years, award-winning, British product design agency JMDA has offices in Worcestershire (UK), Shanghai (China) and Badia Polesine (Italy).
Derrick Barker, Creative and Managing Director at JMDA Design explains what winning a Queen's Award means to the team saying, "We were all overwhelmed when the news of our Queen's Award was announced! Our journey started in 1991 when I began the business with my wife Cherril Barker, who is the Marketing and Finance Director at JMDA. Of course, the landscape of child car seat design was very different back then, but our commitment to child safety has never changed and we're delighted to now be designing our 95th child car seat." He adds, "It really is a team effort at JMDA and winning a Queen's Award for Enterprise 2019 for International Trade makes me extremely proud of everything we've achieved over the years. Our dedication to the industry is now even stronger than ever!"
Now in it's 53rd year, the Queen's Awards for Enterprise are the most prestigious awards for UK businesses, recognising and rewarding their outstanding achievements in the fields of Innovation, International Trade, Sustainable Development and Promoting Opportunity (through social mobility). Representatives from JMDA will attend a royal reception for the Queen's Award winners in the summer, plus the Lord-Lieutenant of the county will visit JMDA's HQ in Worcestershire and confer the award by a Grant of Appointment which will be symbolised by the presentation of an impressive commemorative trophy.
For more information about JMDA Design and their Queen's Award for Enterprise please call +44 (0) 1386 426 100, or email [email protected]. Applications for Queen's Awards for Enterprise 2020 open on the 1st May 2019. For more information, visit https://www.gov.uk/queens-awards-for-enterprise.