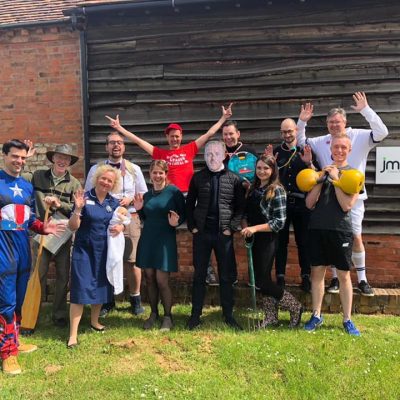 Supporting Free Radio 'Cash For Kids' Superhero Day
---
This year's Superhero Day at JMDA Design on Friday 10th May 2019 supported Free Radio's 'Cash for Kids campaign', fundraising money to help support disadvantaged children across the Midlands. On this special dress-up day entitled 'Not every hero wears a cape', the team at JMDA Design in Pershore Worcestershire, leapt into action for charity, inspired by their own superheroes and even welcomed Free Radio's DJ Tom Newitt into their office to celebrate.
There were sporting heroes, explorers and even a World War 2 land girl… to name just a few, all dressed-up as their favourite superheroes to raise money for 'Cash for Kids'. Having raised over £21.4 million in 2018 and supporting more than 1 million children across the UK, Free Radios 'Cash for Kids' continues to bring communities together in a fun and energising way.
Derrick Barker, Managing Director and Creative Director at JMDA Design, based in Pershore Worcestershire says "We're always committed to supporting national and local fundraising campaigns and Superhero Day at JMDA Design is always a firm favourite." He adds "It always amazes me the creative ideas they come up with for their costumes but we all understand the importance of fundraising, particularly for children's charities. We were thrilled when DJ Tom Newitt from Free Radio came to visit our offices in Pershore to find out how we were supporting Superhero Day. It certainly was a day to remember!".
Having recently won a Queen's Award for Enterprise 2019 for International Trade because of their direct impact on child car seat safety globally, JMDA Design have a long history in protecting children against injury from road traffic accidents. Their ongoing support for 'Cash for Kids' will continue later in the year with Free Radio's 'Christmas Mission' campaign, donating presents to disadvantaged children across Worcestershire, which further reflects their passion for protecting children.
For further information regarding any of the fundraising activities for this year, please contact JMDA's Head Office on +44 (0) 1386 426100 or email [email protected].