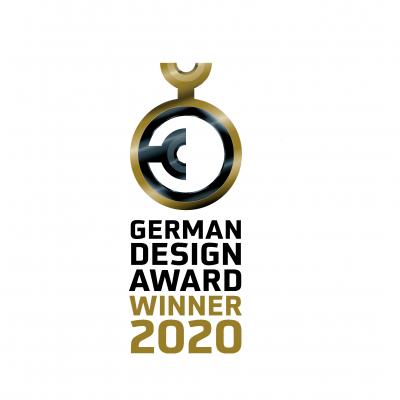 JMDA hifold Booster Wins German Design Award 2020
---
The highly innovative hifold fit-and-fold highback car booster, designed by JMDA, wins the prestigious German Design Award 2020 for outstanding design quality in the category Excellent Product Design. The German Design Awards are amongst the most renowned design competitions, celebrating design excellence at the highest level.
The hifold fit-and-fold booster seat which was designed by JMDA in 2018 has already won awards for innovative design, including the International Design Award (IDA) Gold Winner in 2018. Working with JMDA to design hifold, Israel based company Carfoldio (mifold), radically challenges the established format of highback boosters with its compact design.
Jon Sumroy, CEO at mifold, explains "We are honoured to receive this prestigious award that recognizes the breakthrough innovative design of the hifold fit-and-fold booster. The unique design and technology behind hifold enabled us to produce an exciting product that meets the true needs of the modern consumer. We are delighted that this has been recognized by the German Design Award's esteemed judges and by the product's early commercial success."
Derrick Barker, Founder and Director at JMDA is thrilled with another award for the hifold saying, "The key to the success of the hifold child restraint system is that it provides a practical solution for parents and childcare providers worldwide. Many innovative features went into the design of the hifold and we're proud of the ground-breaking impact this product has had on the industry."
JMDA who have over 28 years' experience in designing child restraint systems are changing the product design landscape with every project. Now designing their 100th child car seat, JMDA are leading the industry, helping to make child car seats even safer.
For further details about JMDA and their full product design capabilities, please call +44 (0) 1386 426100, alternatively email [email protected].