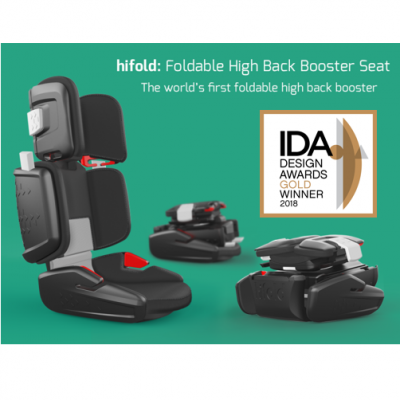 JMDA Wins Gold at The International Design Awards
---
JMDA Design are celebrating the news that their innovative foldable highback booster design for mifold has been awarded Gold in the 12th Annual International Design Awards (IDA). One of the most respected Design Awards in the world, this accolade further demonstrates JMDA's talent and specialist skill in the design and development of advanced child restraint systems (C.R.S).
READ DETAILS OF THE WINNING ENTRY HERE >>>
One of the world's most compact highback booster seats, JMDA's innovative design of the hifold for Israel based company Carfoldio (mifold), radically challenges the established design of highback boosters, by providing a forward-thinking, compact and portable solution which meets the highly mobile needs of today's consumer. The IDA's Product Design of the Year Award recognises the efforts of talented design teams who create practical solutions to solve a problem and make life easier for the consumer. Under the 'Children's Products' category which encompasses 'Car Seats & Accessories', JMDA are proud winners of the Gold Award for this portable highback booster, which is three times smaller than a regular booster. JMDA were praised by the judging panel for the 'smart idea' and considerations of modern lifestyle, transportation trends and child safety.
Derrick Barker, JMDA's Creative and Managing Director explains, "We are thrilled to be IDA Gold winners for our inventive design of the foldable highback booster seat. This is a fantastic achievement for the team! Not only does it put us ahead of our competitors and concrete our name as a world leading designer of Child Restraint Systems and juvenile products, but it further demonstrates our strong creative skills and understanding of the complex and ever-changing CRS landscape." He adds, "The winning design offers a smooth and seamless user experience, whilst still offering the same protection, safety and comfort for the child as they grow; from 15kg all the way up to 36kg, to the height of 150cm and the age of 12-years old."
Jon Sumroy Inventor and CEO at mifold explains, "After the global success of the original mifold grab-and-go backless booster seat, we wanted to bring the same compact portability to the highback booster category. Derrick and JMDA understood our dreams and vision and applied their design skills, industry experience and expertise to create hifold. They truly deserve this honour for an industry-changing design that will further improve child passenger safety."
The International Design Awards exist to recognise, celebrate and promote legendary design visionaries and to uncover emerging talent in Architecture, Interior, Product, Graphic, and Fashion Design. JMDA's highback booster design for mifold has eight advanced impact-protection zones. Ultra-light weight EPP provides for superior impact resistance, and a dense energy absorbing EVA layer adds further protection. Comfort of the child is of upmost importance which is why PU foam and AirFlow™ washable fabric was also used in the design. The patented hifold mechanism of adjustable belt guides holds the seatbelt down to fit the child; allowing a product with a far smaller formfactor.
For more information about JMDA Design and for details of their Gold IDA award for their design of foldable highback booster for mifold, please call +44 (0) 1386 426100, or email [email protected].