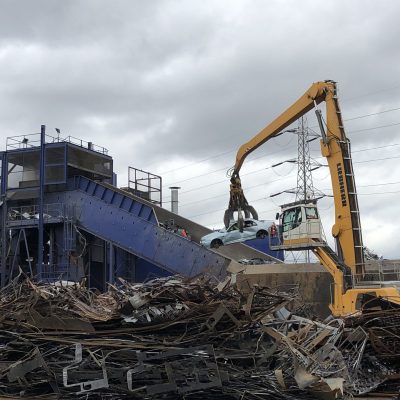 'Global Recycling Day' Springboards JMDA's New Car Seat Recycling Scheme
---
This year's 'Global Recycling Day' on 18th March saw a huge leap forward in JMDA Design's mission to raise awareness of reducing the impact of child car seats on landfill sites worldwide. With help from EMR, one of the world's leading metal and plastics recyclers, 30 car seats were crushed in cars for recycling. The metals were separated for reuse and the plastics were sent to EMR's plastics division, MBA Polymers, to create plastic pellets that can be used in the production process.
JMDA design is a leading global design company specialising in the design of children's car safety seats. It is estimated that around 250,000 children's car seats reach their end of life every year in the UK and over 90% of these are sent to landfill.  JMDA announced in July 2018 their commitment to reduce the number of units entering landfill.
To mark 'Global Recycling Day 2019', JMDA teamed up with metal and plastics recycling experts EMR, to help progress the next phase of their initiative. The trial to recycle over 30 car seats took place at EMR's facility in Birmingham. The used child car seats, which were provided by Diono, Cosatto, Team Tex and Hauck, were placed into end-of-life vehicles which were put through their industrial shredder and separated out into different recyclable components. The dismantling of this many car seats manually would take days but was completed in a matter of seconds by the team at EMR and their specialist equipment.
Derrick Barker, Creative and Managing Director at JMDA Design explains "We were delighted to support Global Recycling Day this year especially as our car seat recycling initiative gathers momentum. We are all becoming more aware of the need to reduce waste and commit to safeguarding the future of our planet. The car seat industry comes with its own set of challenges…. firstly, car seats can't be resold due to the potential risk of their structure being compromised, and secondly, dismantling car seats for recycling can be labour intensive due to the mix of materials and complex structures. A single car seat consists of different types of plastics, metals, foams, harness webbing and fabrics, which is the reason why most car seats end their life in landfill sites". Derrick adds, "We're thrilled to be working with EMR and their plastics division, MBA Polymers, who orchestrated this trial using scrap cars and then filling them with car seats before they entered the company's shredder. We were astounded by the speed and the precision in which the car seats were separated into materials, recovered and recycled."
EMR's Marketing and Communications Director, Gareth Williams said: "As a global leader in metal recycling, we recognise the importance of recycling as our natural resources won't last forever and landfilling is unsustainable. We can recycle everything from a toaster to an aircraft carrier and have invested heavily in developing our own technologies in our quest to be the global leader in the provision of sustainable materials." He adds, "We were shocked to hear that over 90% of children's car seats in the UK are sent to landfill. We want to join forces with organisations like JMDA, to help reduce the number of recyclable products entering landfill sites."
JMDA Design with their Headquarters in Pershore, Worcestershire and teams in China and Italy, have over 27 years' experience in designing children's car seats. Winning coveted awards such as a Gold International Design Award (IDA) and a Red Dot Award for Design Concept to name just a few, expresses their dedication and the company's continued focus on the child restraint industry in all aspects. JMDA is committed to helping to reduce the environmental impact the industry has on the planet and aims to significantly reduce the amount of CRS material entering landfill by 2025.
For more information about the new child car seat recycling scheme that JMDA and EMR have developed, please call +44 (0) 1386 426100, or email [email protected].