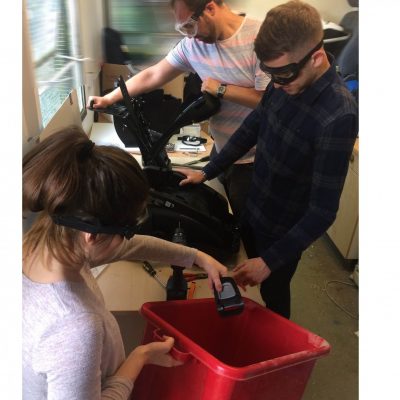 Birth Of Unique Recycling Initative Aims To Cut Car Seat Landfill Waste
---
Product design consultancy JMDA Design held their very first recycling car seat breakdown session last week. The event kickstarts the company's 'Nursery Recycling Initiative' and supports JMDA's mission to reduce waste material from unused, unwanted and damaged car seats from entering landfill.
Staff at JMDA's rural headquarters in Worcestershire are passionate about the environment and supporting green initiatives to minimise landfill waste and damage to the environment. The birth of their new 'Nursery Recycling Incentive' aims to minimise the impact of their nursery design products on the environment. In breaking down unused Child Restraint Systems (C.R.S) into recyclable parts which can be sold as scrap, JMDA hope to raise a sum of money which they can donate to local children's charities.
Derrick Barker, JMDA's Creative and Managing Director explains, "Our responsibility as innovators spans beyond the design and manufacture of nursery products and innovative CRS. JMDA aims to design practical products with a beneficial impact on local and global communities, that support social wellbeing, but which don't impact negatively on the environment." He adds, "JMDA's focus is to use innovation to design increasingly environmentally friendly products without compromising on their quality and safety. I hope that we can lead the industry in reducing the amount of CRS material that enters our landfill."
Over 55% of all waste product is disposed of directly into landfill. The average household in the UK producing more than a tonne of waste every year. Unwanted, unused and damaged nursery products including CRS will also make their way into landfill as they are currently unrecyclable. The use of mixed materials and the time taken to dismantle highly engineered car seats makes recycling them difficult as do the safety concerns relating to their resale.
Second-hand child car seats are likely to be older, to have suffered more wear and tear and may not be designed to current safety standards. There's also the possibility it has been damaged in an accident. JMDA are working hard to raise awareness of the impact of CRS on landfill globally. With the support of local environmental companies, their worldwide supplies and global manufacturers, JMDA will put pressure on the industry to develop a fully recyclable CRS that meets the needs of consumers and regulatory bodies alike.
For further details about JMDA and their new 'Nursery Recycling Initiative', please call +44 (0) 1386 426100, alternatively email [email protected].