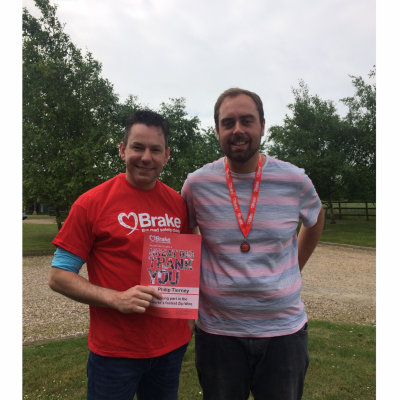 JMDA Zip Line Challenge Raises £350 For Road Safety Charity Brake
---
JMDA are proud of their recent Zip Line Challenge fundraising efforts which have raised £350 for road safety charity Brake. Held at Zip World, Penrhyn Slate Quarry, located near Bethesda in North Wales earlier this month, the eagerly anticipated Zip Line Challenge has been the talk of the UK office over the past few months.
Adrenaline junkies Tom Warrender and Phil Tierney who are based at the company's headquarters in Pershore braved the heights in the name of charity earlier this month and raised an impressive £350 for road safety charity Brake. After arriving at the zip line capital of the world shortly after 11am, the boys completed a mandatory safety induction before making their way up to the quarry. Arriving at the Big Top of Velocity participants were able to admire fantastic views of Snowdonia whist making their way onto the Zip Line descent platform. Donning safety helmets and glasses, the brave volunteers were then strapped into special safety suits and suspended on the zip line side by side. Family members and friends watched excitedly from the viewing platform as the pair were then released and made their way down the Big Zipper across the quarry, exceeding speeds well in excess of 100mph.
CAD Design Engineer Phil Tierney, who was first to volunteer for the Zip Challenge earlier this year when the dates were released, explains "I love to challenge myself and I'm a fan of adventure activities. It really was a great experience to ride the longest Zip line in Europe and the fastest in the world. Not everyone can say they've done that!" He adds "I didn't think I had a problem of heights at all but it's a very different story when you're strapped into a flying suit and suspended 500ft high in the air! I did have a 'why did I agree to this' moment whilst up there and we were waiting to set off, but I'm thrilled that we were able to raise so much money for Brake."
JMDA committed to make Brake their chosen charity for 2018 at the start of the year. Having developed a calendar of charity events the team have pledged to raise as much for the charity as possible. Brake campaigns nationally and regionally and raises awareness among the public to stop road deaths and injuries, to make communities safer and greener, and improve support for crash victims. JMDA who design innovative Child Restraint Systems (CRS) are members of CLEPA and SMMT and share Brake's vision for a world where no one is killed or seriously injured in preventable road crashes.
For further details about JMDA and their support of road safety charity Brake this year, please call +44 (0) 1386 426100, alternatively email [email protected].