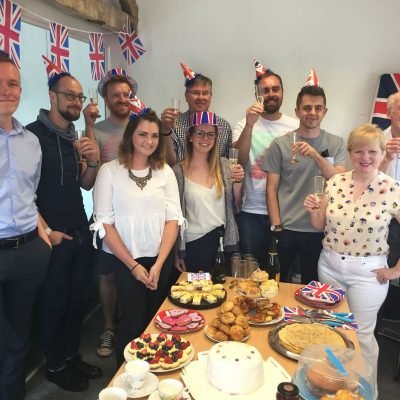 In True Brit Style, JMDA Holds Tea Party To Celebrate Royal Wedding
---
Award winning global design consultancy JMDA Design held a royal wedding afternoon tea party at their HQ in Worcestershire UK, to celebrate the marriage of Prince Harry to Meghan Markle.
With their head office in rural Worcestershire, JMDA Design has an office in Shanghai China and have recently announced an Associate Partnership with Italian designers DGS Project who are based in Italy. JMDA are proud of their British culture and therefore held a very classic tea party celebration and indulged in the famous and very British afternoon 'cream tea'. This included savoury items together with fruit scones with clotted cream and jam and Victoria sponge cakes, accompanied, of course by loose leaf English breakfast tea. Many of the team are sweet- toothed and therefore jumped at the opportunity to showcase their culinary skills, baking a selection of English cakes and biscuits to celebrate the Royal Wedding on Saturday.
Christina Darling, JMDA's Marketing Manager explains, "Quality European design is the backbone to JMDA's success and stronghold in the CRS industry. Although a consultancy with a global presence and offices around the world, the team are proud of their British heritage and founding." She adds, "The Royal Wedding was a fantastic showcase of the beauty and splendour of British Springtime and because of this many businesses, schools and communities across the country held events to celebrate the occasion. In true British style JMDA held their very own Royal Wedding afternoon tea party complete with tea, cake, balloons and union jack bunting. Events like this are always enjoyed by the team providing cake is involved!"
JMDA's award winning design team have over 30 years experience working with entrepreneurs, start-ups, SMEs and large blue-chip clients all over the world. Their specialist knowledge of CRS design and engineering is unsurpassed and industry leading. The team's creative vision and technical excellence, coupled with a tailored, customer focussed approach to each project allows JMDA to deliver cutting edge solutions that exceed expectations.
Prince Harry, the youngest son of Charles and Diana, Prince and Princess of Wales, and brother to Prince William who married Kate Middleton in 2011, is sixth in the line of succession to the British throne. His marriage to American actress Meghan Markle took place at St George's Chapel in the grounds of Windsor Castle on Saturday 19th May.
For further details about JMDA and their European design of CRS, please call +44 (0) 1386 426100, alternatively email [email protected]