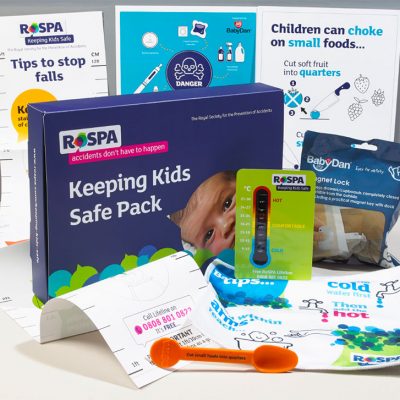 JMDA Go Blue & Kickstart Fundraising Campaign For RoSPA
---
JMDA, who have pledged to support The Royal Society for the Prevention of Accidents (RoSPA) over the course of the year enjoyed dressing all in blue for work last week. The event kickstarts JMDA's 2019 fundraising campaign and shows support of RoSPA and their passion to prevent death and accidental injury.
The first of many challenging yet exciting fundraising events scheduled for the year, the JMDA team got behind RoSPA's 'Be Blue' campaign and wore blue, the charity's main logo colour, to the office last week to raise awareness and money for RoSPA's Keeping Kids Safe Packs. These packs are packed full of useful tips and tools to help give little ones a safer start. They also include useful products to ensure safety around the home including a cupboard latch, nursery thermometer, a falls prevention height chart and weaning spoon. JMDA is a British product design consultancy specialising in the innovative design of child car seats and juvenile products to give babies and children the best possible start in life. JMDA share RoSPA's vision drawn from their respect of life, free from serious accidental injury and suffering at work, on the road, in the home and at leisure.
Christina Darling, Marketing Manager at JMDA explains, "In support of RoSPA's Be Blue campaign, the JMDA team came to work all dressed in blue, RoSPA's main logo colour; our colleagues in Italy also wore Blue! We collected together all of our coppers and will donate these to the charity" She adds, "The marketing team have come up with some novel fundraising ideas to challenge and enthuse the team this year, all with the aim of raising much needed cash for RoSPA and their Keeping Kids Safe Packs. These packs are given out to disadvantaged parents/parents to be and carers of babies or children under 5, as part of RoSPA's Brighter Beginnings Appeal. It's great to be able to see the money we raise through our fundraising events used to fund something that will help prevent accidents involving little ones in the home."
According to research conducted by RoSPA, less than a third of parents think they get enough advice and information to protect their little ones from accidental harm. With around 700,000 babies born in the UK every year, and 30% of all children growing up in relative poverty, RoSPA are keen to distribute their Keeping Kids Safe Packs to as many families as possible.
JMDA's next fundraising activity will be a muddy obstacle course held in Warwickshire in June. The Wolf Run is a 10k off-road run featuring a series of man-made and natural obstacles on trails across open ground and through woodland. It aims to create the feeling of running in natural terrain and incorporates a series of physical challenges such as mud pits, fallen trees, boggy ground, ditches, hills and dense foliage.
For more information about JMDA Design and their exciting calendar of fundraising ideas which will raise money for their chosen charity RoSPA this year, please call +44 (0) 1386 426100, or email [email protected].