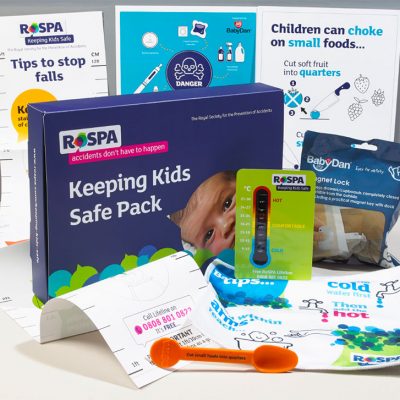 JMDA Make RoSPA Their Chosen Charity For 2019
---
Committed to safeguarding consumer health and safety, JMDA Design, are pleased to announce they will be supporting The Royal Society for the Prevention of Accidents (RoSPA), having made them their chosen charity for 2019.
RoSPA who have a vision for a life, free from serious accidental injury, campaign globally to reduce serious accidental injuries. The JMDA design team, passionate about supporting the wider community and promoting health and safety, have pledged to become members of RoSPA this year and raise money to fund the charity's Brighter Beginnings Appeal. This appeal raises particular awareness of RoSPA's Keeping Kids Safe pack designed for disadvantaged parents/parents-to-be and carers of children under the age of five. Along with lifesaving safety tips and tools, the free pack includes useful products such as an easy-to-fit cupboard latch, a nursery thermometer and a falls prevention height. The JMDA team are eager to start fundraising for the society and have an exciting calendar of charity events planned for the forthcoming year.
Derrick Barker, Creative and Managing Director of JMDA Design, explains why supporting RoSPA by becoming a member of the society this year is important to the team. "RoSPA do a tremendous job in promoting the safety and the wellbeing of families and helping to put an end to unnecessary injury and accident.  As advocators of consumer safety, JMDA are passionate about designing practical products to improve user experience; to make their lives easier and safer. In addition to child car seats and nursery products, our experts have designed a variety of electronic products with consumer safety in mind which have helped to re-define the market." He adds, "As a winner of a Red Dot Concept Design Award for our innovative design of a smart child car seat is testimony to our commitment to safety. Providing optimum protection and enhanced usability, our Smart CRS has thermo-sensors built into the seat which monitor temperature and warns the carer that the child in the seat is in danger of overheating."
RoSPA work hard to campaign on issues which save lives and reduce injuries and has been instrumental in shaping society for the better, preventing millions of deaths and serious injuries along the way. Over the years they have successfully campaigned for the wearing of seatbelts to be compulsory and for safer foam furnishings. The society have helped pass fitted-plug legislation and raised the profile surrounding the dangers of using handheld mobile phones in cars.
JMDA, who have a particular specialism in the development of child car seats, have led the child car seat industry for many years. JMDA are industry leaders in the design of high-end design solutions, focused on producing even safer and better performing child car seats to meet the needs, demands and regulations set by the industry. Besides child car seats, staff at JMDA, with their engineering expertise, also design a variety of nursery products in addition to robust electronic solutions and user centric consumer products. Their portfolio includes such products as the award-winning Wallace Cameron first aid kit, Stannah stair lift, and Fire Angel smoke alarm.
For more information about JMDA Design and their support of The Royal Society for the Prevention of Accidents this year, please call +44 (0) 1386 426100, or email [email protected]