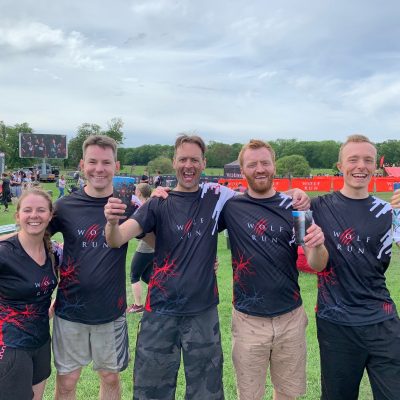 JMDA Design team raise £395 in charity Wolf Run
---
Discovering their animal instincts, JMDA Design took on the challenge of a Wolf Run on 1st June to raise money for the charity Royal Society for the Prevention of Accidents (RoSPA). The Wolf Run held in the grounds of the striking Stanford Hall Estate, Leicestershire, involved a gruelling obstacle course through dense woodland, wild springs and lakes, and the team raised an impressive £395.
It was a hot and sunny day at Stanford Hall where Wolf Packs from across the country gathered to take on the beautiful yet challenging course, that would test the fittest of all runners. Helping their team members along the way, JMDA Design worked together to take on the very muddy full body workout.
Hanna Petts, Industrial Designer at JMDA Design explains, "We wanted to do something that little bit special to raise money for RoSPA our chosen charity for 2019 and a Wolf Run was the perfect opportunity. We're all quite sporty and love the outdoors, so combining that with supporting fundraising for RoSPA, we decided to run for charity and express our ongoing commitment to increasing safety standards through the products we design. The Wolf Run was such a great experience, full of drama and tested us all to the limits, both physically and mentally!"
As a product design agency, the team at JMDA Design are global specialists for designing child car seats and other child safety products. Their support for RoSPA in 2019 is just another way the team shows their dedication to reducing serious accidental injury as the charity campaigns to prevent accidents.
The story so far for JMDA Design in 2019 is full of achievements, winning both a Gold International Design Award and the highly prestigious Queen's Award for Enterprise 2019 for International Trade. Supporting RoSPA in a year full of celebrations is our way of helping local communities and families in all aspects of safety.
For further information regarding any of the fundraising activities for this year, please contact JMDA's Head Office on +44 (0) 1386 426100 or email [email protected].