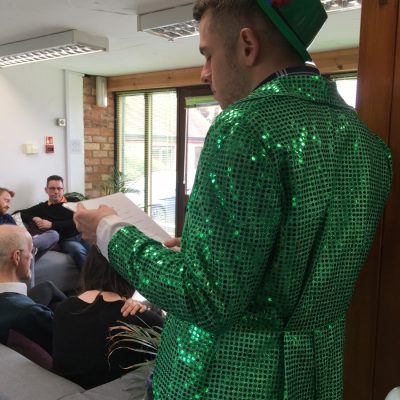 JMDA Hold Quiz In Support Of RoSPA's Family Safety Week
---
JMDA Design who have made RoSPA their chosen charity for 2019 are supporting Family Safety Week this week with a fun, yet challenging home safety quiz to test their knowledge of road safety and common hazards around the home.
Helping to promote safety and health awareness, JMDA's Marketing team put together a series of safety related multiple choice questions designed to test the team's knowledge of safety on both the roads and in and around the home. Held at JMDA's HQ during lunchtime on Thursday, groups of three donated money to enter a team into the quiz and eagerly answered a series of questions designed to test their knowledge of common hazards found around the home and challenges for road users.
Christina Darling, Marketing Manager at JMDA explains, "This year, JMDA are dedicated to raising as much money as they can for RoSPA and their innovative Keeping Kids Safe Packs. These packs are given out to disadvantaged parents/parents-to-be and carers of babies or children under-five, as part of RoSPA's Brighter Beginnings Appeal." She adds, "By holding enjoyable fundraising events such as this RoSPA Family Safety Week Quiz, the team demonstrated their support of the charity, whilst raising vital funds at the same time. The Quiz generated a great, competitive atmosphere. The questions promoted discussion and in some instance really divided opinion; it was really good fun!"
Providing a number of useful resources, including posters, leaflets, pedestrian training and fun hazard games for children, RoSPA aims to help parents and teachers to start safety conversations of varying depths, during Family Safety Week held 1st-5th April 2019. JMDA helped to spread awareness of RoSPA's efforts by sharing their hints, tips and interesting statistics across social media during the week.
Besides continuing to collect their loose copper change, a number of brave members of the JMDA team have agreed to test their courage, strength and endurance by taking part in a Wolf Run obstacle course in June. Being held at Stanford Hall in Leicestershire, the course offers a wide range of challenging terrain, vast woodland and stunning scenery. JMDA's courageous participants will be asked to fundraise prior to the event and all proceeds will go directly to RoSPA to help fund their life saving Keeping Kids Safe Packs.
Besides being industry leaders in the advanced design of Child Restraint Systems (CRS) and nursery products designed to keep children and babies safe, the team at JMDA are also highly experienced in the design of consumer products designed for safety and security such as stair lifts, first aid kits, door entry systems and fire alarms.
For more information about JMDA Design and their support of RoSPA and their Family Safety Week this year, please call +44 (0) 1386 426100, or email [email protected]