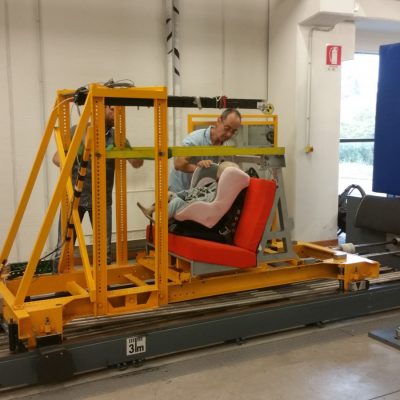 JMDA Announce Associate Partnership With Italian Company DGS Project
---
Innovative global design consultancy JMDA Design are pleased to announce their Associate Partnership with DGS Project in Italy, further strengthening their global CRS design services portfolio.
JMDA Design with their Head Office in Worcestershire, UK and a satellite office in Shanghai, China are a world leading consultancy for the design, development and compliance of Child Restraint Systems (C.R.S.). Boasting an impressive portfolio of practical juvenile products designed to keep babies and children free from harm, the recent Associate Partnership with DGS Project demonstrates their continued success in these diverse industries and further expands JMDA's global design resource and engineering capability with a European partnership.
Derrick Barker, Managing and Creative Director at JMDA Design is pleased to welcome DGS Project and explains "Our team are delighted to be partnering with DGS Project, working in synergy and enhancing the already extensive knowledge of CRS compliance and manufacture. Besides specialist experience in the full design and development for manufacture of Child Restraint Systems, the Italian team also have extensive knowledge and experience of the design of comfortable, lightweight and safe children's bicycle seats."
"Our strategic Associate Partnership with DGS Project will provide a solid platform from which further product design opportunities can be established and our stronghold within Europe will be enhanced. Having direct access to our own CRS Dynamic Testing Services will give our clients the ultimate simulation environment to test prototypes in cost effective way".
With access to a dedicated test rig, JMDA-DGS Project will become the only European design consultancy with the ability to test CRS designs in house. Running multiple dynamic tests and checking designs meet the performance and ECE requirements, will improve project efficiency, increase confidence and reduce final validation.
Riccardo Sacchetto, Director at DGS Project in Italy explains, "Along with my colleagues Roberto Ghesini and Luca Dall'Aglio we look forward to working more closely with JMDA Design and collaborating our knowledge to give JMDA-DGS Project the edge in award- winning European design." He adds, "Working in partnership together we can expand the services we offer clients to include 'CRS Dynamic Testing Services'."  
For further details about JMDA, their partnership with Italian company DGS Project and the opportunities this Associate Partnership will provide, please call +44 (0) 1386 426100, alternatively email [email protected]