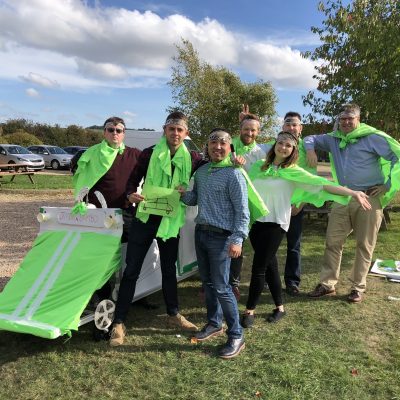 JMDA Team Building Day Gets The Team Revved Up
---
JMDA recently held their annual team building event at their headquarters in rural Pershore. Experts in CRS and nursery product design, the team relished the task of working together to build racing cars in a 'Monte Carlo or Bust' team building challenge.
Keen for something that little bit different, the design team at JMDA participated in an exhilarating and fun afternoon with a 'Monte Carlo or Bust' team building event earlier this month. With a huge range of building materials available to them, the team were split into two. They were then asked to design and build a life-sized concept car to fit a brief given by the team owners, sponsors and safety advisers. The teams were required to work together and communicate effectively while channelling their imagination. Success was measured on their ability to meet specifications and come in under budget and furthermore, within the given timeframe. Their design and technical skills were then put to the test. The teams raced their cars around a series of challenging obstacle courses… bringing light-hearted humour to the end of an action-packed afternoon.
JMDA's Studio Design Manager Chris Carter explains, "The Monte Carlo or Bust event seemed a fitting event for us to choose for our team building day. We had so much fun planning, designing and building our concept cars. The best bit had to dressing up and navigating them around challenging obstacle courses outside the office in the car park! Jason Song, JMDA's General Manager for China flew over and was able to participate in the event along with the rest of the JMDA team based at the company's HQ. There was a great atmosphere, with lots of cheering and camaraderie."
JMDA is an award-winning British product design consultancy focused on innovative design and engineering excellence. With over 25 years' experience in product design, the company delivers design solutions to a global client base. Personal development of the team is the framework to which JMDA base their success, building relationships and exchanging skills and experiences.
Pictures from JMDA's recent Monte Carlo or Bust team building event are available to view in the Galleries page on their website. https://www.jmdadesign.com/galleries/3512/. For more information about JMDA Design, please call +44 (0) 1386 426100, alternatively email [email protected].