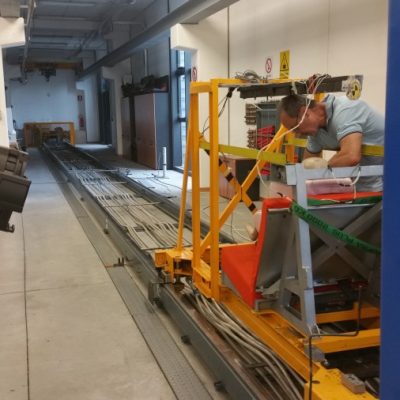 JMDA Design Agency With Internal Dynamic CRS Testing
---
Through their Associate Partnership with DGS-Project in Italy, JMDA are proud to be the only European design consultancy with a dedicated internal test rig capable of dynamic testing CRS designs in-house, putting them ahead of their competitors.
Having direct access to their own CRS dynamic testing services in Italy will give JMDA's global client base the ultimate development environment in which to test prototypes and run experimental tests saving time and cost. Not only this but JMDA's design team can check designs meet certain performance requirements, which provides a baseline level of safety, also do beyond the limits testing. Besides improving efficiency, testing designs in this manner increases confidence and reduces time during final validation stages of the project.
Creative and Managing Director Derrick Barker explains "We are thrilled to have an in-house testing facility to test CRS designs. Having this facility really sets us apart from our competitors and gives us the edge in CRS product design. With access to our own internal dynamic test 'sled' we can test the performance of our CRS designs dynamically with mock ups or immediately out of moulds." He adds, "The team can run tests repeatedly which can help them to build a better picture of the product's performance and optimise its safety, which is of the upmost importance. It also allows us to make small iterations to designs which will ensure the product meets European compliance and optimised manufacture cost."
Under ECE R44 regulation child restraint systems undergo frontal collision and rear impact collision testing. P dummies that represent the weights of different age category of child are used as part of these tests. JMDA's colleagues at DGS Project who oversee JMDA's internal crash test facility are specialists in the development and manufacture of CRS and Child bicycle seats. Their knowledge and expertise in CRS regulation and compliance is a valuable resource when it comes to the certification and approval stages of the company's complex CRS design process.
For further details about JMDA and their dynamic testing capabilities, please call +44 (0) 1386 426100, alternatively email [email protected].