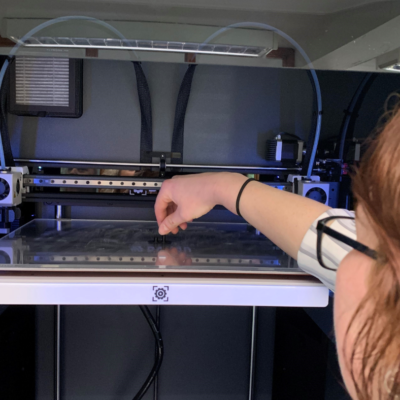 JMDA's New 3D Printing Facility
---
JMDA have installed a brand-new 3D printing facility at their UK Head Office in Pershore, Worcestershire. With a new state-of-the-art BCN3D Printer, which allows for large print volumes due to its two extrusion hotheads, JMDA invests in the latest technology to further support their product design capability.
3D printing is a crucial stage in the creative process, which allows designers and engineers to confirm and check the quality of the solutions they're presenting, as well as controlling the functionality, ergonomics and the look of specific parts or the whole body. JMDA's new investment will support the future expansion of the business and in turn help support their global network of clients, as their product design services evolve.
The increased 3D printing volume available due to the double extruder heads, can also print two parts at the same time, therefore reducing time and running costs. Plus, two materials can be printed at the same time, allowing for a better superficial finish of the parts, or for creating parts that combine the benefits of two materials, just like the latest cutting-edge composite materials can do.
Following our increased focus on sustainability, we are pleased to announce that our new 3D printing facility uses eco-friendly filaments due to its PLA (Polylactic Acid) material. Therefore, anything printed on this cutting-edge 3D printer is biodegradable, sustainable and is a food safe polymer made from organic sources -further strengthening our mission in driving sustainability forward in product design.
With training completed in a day-long inhouse seminar, all members of the team have put the new 3D printing facility through its paces, taking full advantage of the new technology potential. The team are now looking forward to supporting, designing and creating brand new parts to demonstrate our new equipment and its important role in the product design process.
For more information about our new 3D printing facility, please contact our UK Head Office on +44 1386 426100 or alternatively email [email protected].