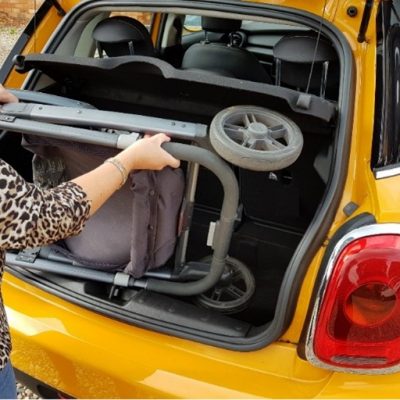 JMDA Webinar Discusses 'Do Strollers Fit Properly In Cars'?
---
JMDA Design announce their next webinar topic on 8th June at 1pm BST will discuss the growing nursery industry issue 'Do strollers fit properly in cars?'
Leading the discussion, JMDA will highlight that as the nursery market grows with a vast array of designs and sizes of strollers, the challenge is whether the stroller will fit into the family car. As consumer buyer behaviour has shifted dramatically with the trend to purchase online being further fuelled with the COVID-19 pandemic, knowing whether a pram or stroller will fit in a boot is never certain, particularly when this cannot be physically tested before purchase.
Chris Raynor, Head of CRS Compatibility Services at JMDA, explains the importance of the webinar in the nursery industry, "In our next webinar we explore how a stroller fitting list as part of a vehicle compatibility profile can aid stroller selection and confidence in consumer purchases and reduce the number of returns and decrease waste."
He adds "Having research on passenger-car luggage areas or boots/trunks could aid stroller development from initial design concept, right the way through to manufacture. By ensuring a comfortable fit for a stroller within a boot of a car also helps maximise market penetration."
Those attending the webinar can also gain an insight into how boot capacity can influence stroller product design and the holistic benefit of an accurate boot fitting list for manufacturers, retailers and consumers. There is also an important part to be played by the automotive market to help steer product design in the nursery industry.
JMDA Design in their 30th year of business, continue to provide award-winning innovative solutions to everyday challenges, and this includes stroller product development which supports manufacturers, retailers and consumers. Join their webinar to explore the unique insight into how having a stroller fitting list can provide an invaluable tool to the nursery industry. Register for the webinar HERE.
For more information about JMDA Design and their webinar on 8th June, please call +44 (0) 1386 426100 or email [email protected]