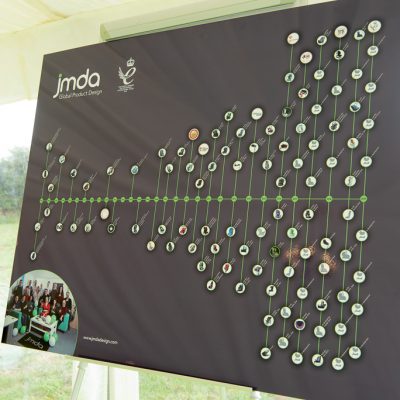 JMDA Celebrate 30 Years In Product Design
---
Multi award-winning JMDA Design, with their Head Office in Pershore Worcestershire, celebrate their 30th year in product design in 2021. As a global leader in designing child car seats and nursery products, JMDA Design reflect on three decades in the industry with their aim and drive to develop innovative, ground-breaking products as strong as ever.
Since starting JMDA Design in 1991, JMDA have designed over 105 child car seats and numerous other products in the nursery, consumer and electronics industries. A pinnacle in the company's history includes being awarded the Queen's Awards for Enterprise: International Trade 2019, for their outstanding contribution to child car seat safety across the world. Having won two Red Dot Awards for Design Concepts of child car seats in 2016 and 2020, they continue to lead their field on the global stage. Plus, in Time's Magazine last month, one of their product designs featured in 'TIME's 100 Best Inventions of 2020'.
Derrick and Cherril Barker, Founders and Directors at JMDA Design explain, "We are so proud to be celebrating our 30th year in business; we have always strived to develop innovative products that solve real-life challenges, making a difference by increasing efficiency and safety, with exceptional design."
Derrick adds, "The product design industry in 1991 is unrecognisable to today's landscape with developments in technology acting as a springboard to dynamic inventions. One thing that has been consistent all the way through our journey is the support and dedication by our team and all those who have helped us along the way. I would like to take this opportunity to say thank you for your support over the last 30 years!"
In their 30th year, JMDA Design will continue to support local charities, in particular those suffering from the impact of the COVID-19 pandemic. As well as their ongoing commitment to Brake who help support those who have experienced a road traffic accident and raise awareness of road safety.
For more information about JMDA Design celebrating their 30th year in business, please give Derrick Barker a call on +44 (0) 1386 426100 or email [email protected].
*Pre Covid-19 picture. The JMDA Design Team receiving their Queen's Award in 2019 at their Head Office in Pershore, Worcestershire UK.