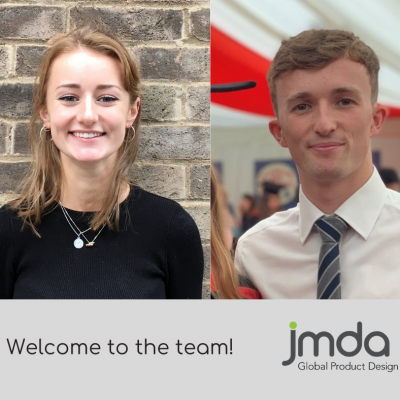 New Year & New Starters for JMDA Design
---
Worcestershire based JMDA Design are delighted to welcome two new starters to their team this month, to support their growth plans for 2021. Scott White and Becky Worrall join the team as Graduate Interns bringing with them a fresh new insight into innovative product design.
With current business news often shrouded by the impact of the COVID-19 pandemic, JMDA Design bring welcomed and positive news by recruiting two new Graduate Interns to their UK operation. Scott White joins the business after graduating from Coventry University last year with a BA Honours degree in Product Design, with industry experience in working with well known brands such as JLR and Puma. Also welcomed into the team is Nottingham University Graduate Becky Worrall, who not only has a master's degree in Product Design & Manufacturing Engineering (MEng), was awarded best individual project, designing a snowmobile emergency vehicle.
Chris Carter, Design Studio Manager at JMDA Design, leads the recent recruitment drive and explains, "JMDA has always been proactive in recruiting graduates and particularly with the current challenges young people face with finding jobs, it's even more important that we support the next generation in inspiring product designers. We are delighted to give a warm welcome to the team to Scott and Becky and wish them all the best in their new roles at JMDA".
Queen's Award winners JMDA Design, who are celebrating their 30th year in business, are no strangers to investing in talented individuals to enhance and support their culture of product design through innovation excellence. Their strong hold in designing nursery products and child car seats, will further develop into 2021, as the need for inspiring designs that challenge the norm continues.
For more information about JMDA Design and their new members of staff please give Chris Carter a call on +44 (0) 1386 426100 or email [email protected].