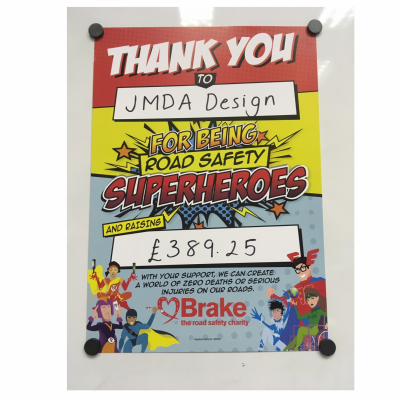 JMDA Raise Over £380 For Road Safety Charity, Brake
---
As 2018 draws to a close, JMDA Design are pleased to announce they have raised an impressive £389.25 over the course of the year which will be donated to their chosen charity Brake. This brings to an end an exciting year of fundraising, dress up and baking activities for the charity.
At the start of 2018, JMDA Design, whose headquarters are in Worcestershire, UK, made road safety charity Brake their chosen charity for the year.  As the leading designers of child car seats, and passionate about the safety of children whilst in vehicles, it seemed fitting for the company to pledge their support of Brake and the tremendous work that they do. Over the last 12 months the team have enjoyed participating in a number of different fundraising activities with the aim of raising much needed funds for the charity. Besides a Valentine's themed baking event in February, the team have supported Brake's Virtual Run this year and have actively logged their physical activity since the beginning of January. Setting themselves the impressive target of reaching JMDA's office in Shanghai, China, some 5751 miles away, the team are delighted to have collectively travelled the full distance, virtually speaking!
Derrick Barker, JMDA's Creative and Managing Director explains, "Brake is a national road safety charity working with communities and organisations across the UK to stop the tragedy of road deaths and injuries. As leading designers of Child Restraint Systems (C.R.S) it seemed fitting for us to spread awareness of child car seat safety and the dangers of poorly fitted CRS through our fundraising for Brake this year." He adds "Besides numerous fundraising baking events, CAD Design Engineers Phil Tierney and Tom Warrender participated in an exhilarating Zip Line challenge for Brake during the summer which they thoroughly enjoyed! Sharing Brake's vision for a world where no one is killed or seriously injured in preventable road crashes, the team recently enjoyed dressing as road safety superheroes in support of the charity's Road Safety week-long campaign."
Brake campaigns nationally and regionally to raise awareness among the public to stop road deaths and injuries and provides valuable support for crash victims and to those who have lost family and friends in road traffic accidents. Brake is reliant on volunteer backing, donations and fundraising to support their work to end the carnage on roads and to make communities safer.
JMDA are proud to have been able to support Brake over the last 12 months and have fully embraced the different fundraising activities arranged to raise money for the charity. The team look forward to announcing their chosen charity for 2019 and another interesting calendar of fundraising activities in the New Year.
For more information about JMDA Design and their support of Brake, please call +44 (0) 1386 426100, or email [email protected]