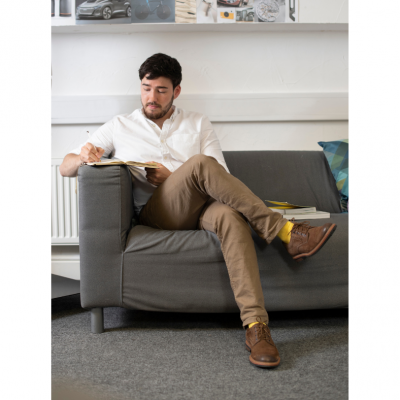 Industrial Designer Adds New Talent To JMDA Team
---
JMDA Design welcomes Gareth Wyn-Thomas to the team as their new Industrial Designer, bringing with him a wealth of knowledge and his unique experience in the transport sector.
Adding to their team of product designers and design engineers based at their Head Office in Pershore, Worcestershire, Gareth's appointment adds a new dimension to the team's skills. Having worked in the transport sector for the last four years, particularly in designing commercial aircraft seats and business jet interiors, will add inhouse specialist knowledge in a unique field that will also enhance JMDA's stronghold in the child car seat design market and adds fresh ideas into JMDA's other commercial projects.
Chris Carter, Studio Manager at JMDA Design explains, "We are so pleased to welcome Gareth to the team. His design experience in the luxury market and the challenges that come with aviation, results in the ability to produce refined, lightweight, and purposeful design solutions. Gareth's knowledge is exciting and will enhance JMDA's industrial design team".
Gareth says "I already feel at home at JMDA, the team has been so welcoming. The diverse range of design projects gives me a great opportunity to use the full breadth of skills I have obtained, and I look forward to new challenges".
In JMDA's 30th year in business, they have announced a number of new staff joining the team reflecting their buoyancy in the nursery market, where unique design is driving consumer demand. As a multi award-winning product design agency and winners of The Queen's Awards for Enterprise: International Trade 2019, JMDA's passion for innovative design is stronger than ever.
For more information regarding the appointment of Gareth Wyn-Thomas, please call the JMDA Head office on +44 (0) 1386 426100 or alternative email [email protected].