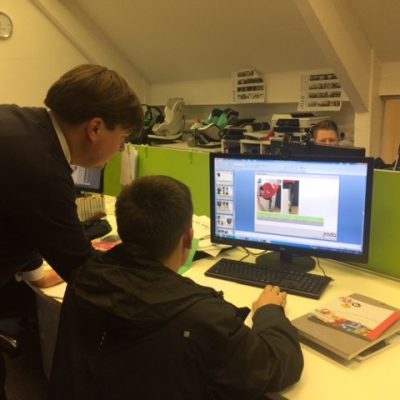 JMDA Support Local Apprenticeship Scheme
---
Local apprentice Oliver Bray has recently begun an exciting and challenging apprenticeship at JMDA Design. Oliver will be helping with the development of the company's unique car seat vehicle compatibility database.
JMDA Design Consultancy are industry leaders in the design of child restraint products and are keen to support the local community. They are very excited to be working closely with the Heart of Worcestershire College and the Leaping Man Professional Qualifications (PMPQ) training provider by providing Oliver with an interesting, year-long paid work placement in CAD Design.
JMDA's unique vehicle compatibility database enables compatibility of car seat designs to be established, well before the design is finalised and tooling is initiated. As part of his Advanced IT apprenticeship, Oliver will support the Vehicle Compatibility Services Manager Christopher Raynor, with continued gathering of a range of specific vehicle seating data for new models. These measurements will be entered into JMDA's unique database and used for CRS fitting checks and to drive a virtual environment in JMDA's 3D CAD System, which in turn assists the development process of new child restraint systems.
Oliver Bray explains "I am very pleased to have been given this opportunity to work with JMDA Design and assist with capturing technical data obtained through detailed car seat fitting checks and analysis which will support the company's vehicle compatibility database." He adds, "I have been very welcomed by Derrick Barker, the owner and his team, everyone is very friendly and accommodating. I'm really excited about the year ahead!'
The team at JMDA are responsible for designing creative, innovative and practical solutions for their global client base. Specialising in the design, development and compliance of child restraint systems, the team also design products for the consumer market.  The company are very supportive of LMPQ and the opportunities they provide local students in terms of developing industry standard internationally recognised skills and qualifications in addition to long term professional career prospects. Their involvement with the scheme this year supports the company's growth and expansion as they build on their outstanding accomplishments of 2016.
For more information about JMDA Design and their recent RedDot Award for Design Concept, please email [email protected] or call +44 (0) 1386 426100.