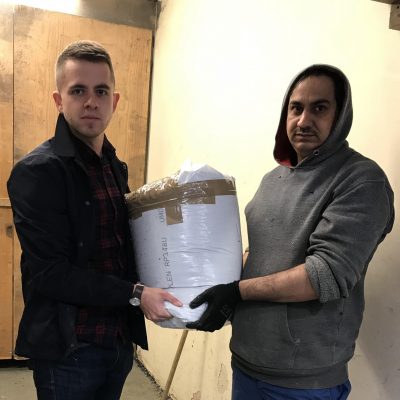 JMDA'S First Recycled Child Car Seat Waste Enters Manufacturing
---
With the help of Birmingham-based Injection moulding company, Firstpress, JMDA Design have been able to recycle plastics from unwanted child car seats they have dismantled over the past few months. The recycled plastics are then being used to manufacture drainage products, helping to reduce the plastic waste entering local landfill sites.  This supports JMDA's mission to minimise the child car seat industry's impact on the environment.
JMDA's innovative 'Nursery Recycling Initiative' was launched earlier this year. By dismantling unwanted and damaged child car seats, car seat bases and nursery products, the team's long-term aim is to reduce the amount of waste material they send to landfill, which could otherwise be recycled. JMDA have been able to send the plastic from dismantled child car seats and bases to Firstpress, where the material was then ground into pellets and utilised in the production of plastic parts for underground drainage bottle gullies.
Rob Jones, Industrial Designer at JMDA was delighted to be invited by Firstpress to see for himself the process by which JMDA's plastic waste was recycled. He explains, "It was very interesting to see the process by which our plastic waste has been turned into a useful, recyclable product. I was introduced to the company's Logistics Manager Amjad and we sorted the plastic into three categories, Polypropylene (PP), Acrylonitrile butadiene styrene (ABS) and Nylon. From here the PP material was taken to the regrinding machine. The plastic was placed into the machine and ground for about 10 minutes or so producing small plastic granules, ranging in size from 2.0-5.0mm." He adds, "We weighed the pellets and I was pleased to find that we had 18kg of regrind material. This, rather than being dumped in landfill sites, has been utilised by Firstpress to make a production batch of plastic buckets for use in underground drainage gullies."
JMDA takes its corporate social responsibility very seriously. The team is committed to minimising the impact of their child car seat and nursery design products on the environment, without, however compromising on quality and safety. They hope to raise awareness of the impact of child car seats on landfill and to put pressure on the industry to develop a fully recyclable CRS that meets the needs of consumers and regulatory bodies alike. JMDA look forward to working more closely with Firstpress in the future.
JMDA continues to seek other local businesses to get involved and support their recycling initiative.
For more information about JMDA Design and their nursery recycling initiative or to discuss getting involved, please call +44 (0) 1386 426100, or email [email protected]