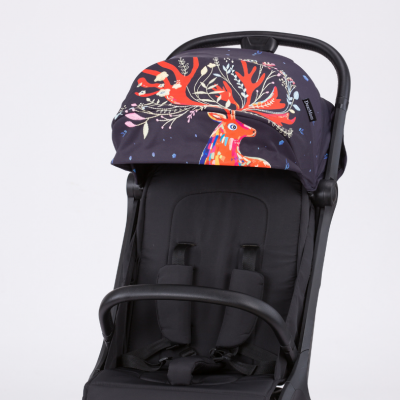 Can new materials enhance brand positioning in strollers?
---
The strength of fashion and brand power is now a key factor in driving stroller sales. Creating stroller envy enables brand distributors to command a higher price for their products in a saturated marketplace and new materials can help their stroller stand out from the crowd.
There has been a massive increase in the demand for new fashion elements to be integrated into strollers, led by brands such as Cybex working with Jeremy Scott, the Creative Director at Moschino. Uniqueness in soft-goods, canopy, seats and backs can be infused with fashion trends so that the stroller product design can work in synergy for maximum impact.
Now JMDA has an in-house textile design capability, working as a key part of our product design team, this enables exploration of textiles in an integrated way, allowing brand identities to develop in synergy throughout a project.
Creating a high fashion stroller that embraces brand quality, drawing from the elite in the fashion industry helps create a new look and uniqueness within the marketplace. Coupled with the quality engineering and ergonomics, trends in stroller product design go hand-in-hand with longevity, ease of use and convenience. A very striking example of the power of fashion and branding comes from Inglesina's stroller for DIOR, which has a DIOR patterned canopy and logos designed into the Inglesina stroller and now commands a £3600 price (Inglesina for Dior).
It's clear to see that the importance of fashion and new materials is here to stay and JMDA will be leading the new wave in stroller designs.
If you would like to find out more about creating unique stroller designs by working with JMDA Design, please call +44 1386 426100 or alternatively email [email protected].