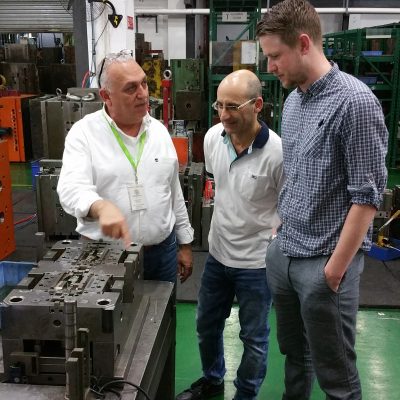 Team Visit To China
---
Members of the JMDA Design team have recently returned from a trip to China where they gained valuable experience not only of the manufacturing process used in the production of Child Restraint Systems but also the culture and environment in China.

Product Design Engineer Emma Harris and CAD Engineer Chris Lester visited clients in Shenzhen, Dongguan, Ningbo and Shanghai and have taken their first steps towards project and client account management in one of the strongest markets for JMDA.
Derrick Barker, Managing and Creative Director at JMDA Design Ltd explains 'As part of both engineering skill and personal development, it was important that Chris and Emma were given the opportunity to visit our Chinese clients where they were able to discuss in detail their projects and gain a better understanding of the customer's design needs and requirements.' He adds, 'Having a good understanding of the Chinese manufacturing environment and culture is vital to the team producing cost efficient quality engineered designs.'
Talking of his trip to China Chris Lester explains 'It has been really useful for Emma and I to make the trip to China this year. Visiting mould makers, injection moulding and product assembly areas in manufacturing factories around China has given us a valuable insight into the manufacturing process and informs the design process.'
JMDA have offices in both Pershore, Worcestershire and Shanghai. The company have strong ties with China which allow the company to provide European design, engineering and new product development expertise together with the benefit of on the ground support for manufacturing in China. From here JMDA are able to assist clients wishing to enter the Chinese market with product and market compliance. In particular, and where applicable, the CCC (China Compliance Certificate).
For more information regarding JMDA's product design services please call +44 (0) 1386 426100 or alternatively email [email protected]