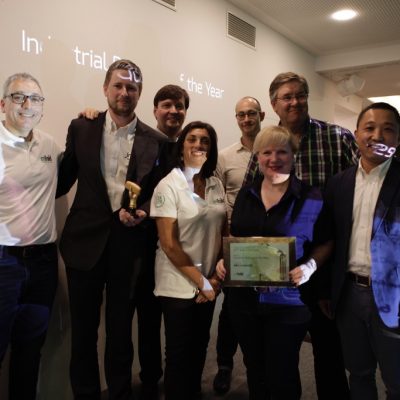 JMDA Winner At Mifold Award Ceremony
---
JMDA are thrilled to have been awarded 'Industrial Designer of the Year' at Mifold's recent Annual Distributor Gala and Awards Ceremony.
The team at JMDA have been integral in supporting mifold with the design and development of a range of new products over the course of the last two years. Besides supporting concept design and manufacture and advising on safety, JMDA played a key part in mifold's launch event at the K&J nursery fair this year. JMDA were also responsible for creating a detailed Keyshot animation showcasing mifold's innovative highback booster, the 'hifold' with its unique features and seat configurations.
JMDA's CRS Compatibility Services Manager Chris Raynor and General Manager for China Jason Song were amongst the JMDA team members who attended mifold's awards ceremony in September. Jason explains 'We have been working with the team at mifold over the past two years and are pleased to have supported them with their new dynamic yet practical range of CRS products, most recently their new 'hifold' highback booster. We're delighted that our efforts have been recognised by mifold, reflected in our Industrial Designer of the Year Award.' He adds, 'mifold's Annual Distributor Gala and Awards Ceremony was a huge success! Not only was it a great opportunity to meet the whole of mifold team, but it was a chance to meet many of their partners and celebrate the company's hard work and achievements.'
The inventor and founder of mifold, Jon Sumroy and his team are passionate about child safety. In developing their practical compact and portable highback booster, the team hope the 'hifold' can be used every day, anywhere by families all over the world.
For further details about JMDA's global design capabilities, please call +44 (0) 1386 426100 or alternatively email [email protected]