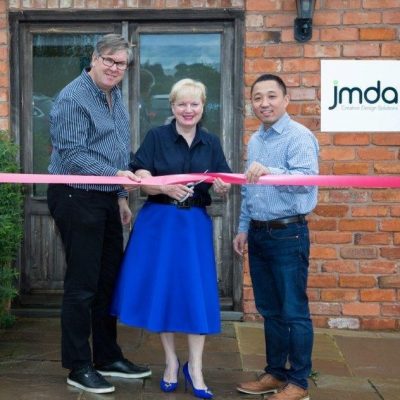 Office Expansion Reflects Team Growth
---
To cater for their growing workforce and increasing number of global product design projects, the team at JMDA Design's Headquarters have extended their office space on their idyllic premises in rural Worcestershire.
The team over the past year have expanded rapidly and taken on several new members of staff to support the growth of the business. To accommodate the extra workforce, JMDA have acquired an extra office space on their beautifully located countryside premises just outside Pershore in Worcestershire.
Cherril Barker, Financial Director at JMDA explains 'JMDA are the world's leading consultancy for Child Restraint System design, development and compliance. The office expansion is a milestone for JMDA, one which must be celebrated! We marked the occasion with an adventurous and fun filled team building activity day earlier this month which included some competitive games of bowling and an exhilarating interactive escape room game at Cyber Q in Worcester. The events fostered awareness of the JMDA team spirit and helped to further strengthen relationships between team members.'
With over 25 years' experience in product design, JMDA delivers inventive design solutions to a global client base. Besides their Red Dot accolade last year, JMDA Design were recently Highly Commended for their achievements in the Herefordshire and Worcestershire Chamber of Commerce Business Awards 'Exporter of the Year' category. The award recognises the company's global business growth and export from the UK.
For more information regarding JMDA's innovate design solutions, please call +44 (0) 1386 426100 or alternatively email [email protected]