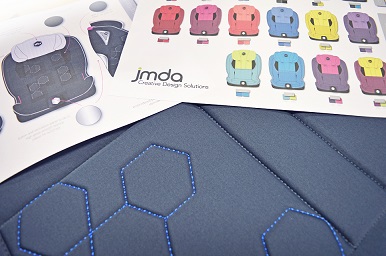 Soft Goods Development With Creative Textile Solutions
---
JMDA are proud to be able to support their clients with soft goods development, textile sourcing, compliance and manufacturing implementation through their Associate Creative Textile Solutions. Creative Textile Solutions have over 16 years' experience of textile engineering and regulatory compliance which helps enrich JMDA Design services and their expanding global client base.
JMDA Design continue to forge a strong working relationship with their Associate Creative Textile Solutions, who bring with them a wealth of knowledge in textile performance and design for manufacture with expert knowledge of regulatory compliance in the industry. Creative Textile Solutions, founded in 2012 have a varied global client portfolio supporting all areas of textile product development including baby gear, technical sports apparel, automotive fashion and home interiors. The company are specialists when it comes to textile engineering and are uniquely positioned to guide JMDA and their clients in a manner that ensures their products comply with rigorous and evolving industry regulations.
Director of Creative Textile Solutions, Stacy Marshall explains, 'We are textile product specialists with years of experience in the industry. With offices in the UK and China, we are able to support clients both locally and in Asia working with trusted suppliers and manufacturers. Besides offering guidance on trends and styling directions, we also have an extensive understanding of soft and hard interfaces and the challenges of bringing the two together with textile engineering, aswell as the various regulations imposed on the industry.' She adds, 'Being an Associate of JMDA is very exciting, we're pleased to be able to support JMDA and their clients not only with their textile selection but with a host of other activities including product development, sourcing and product manufacture.'
JMDA Design's association with Creative Textile Solutions enhances their in-house skillset and allows the company to support clients right from the concept stage through to full manufacture of child restraint systems and nursery products. Having a multitude of skills all under one roof, and access to specialist knowledge from third party partnerships will only strengthen JMDA's global presence within these industries.
For more information about JMDA Design and their Associate, Creative Textile Solutions, please call +44 (0) 1386 426100 or alternatively email [email protected]