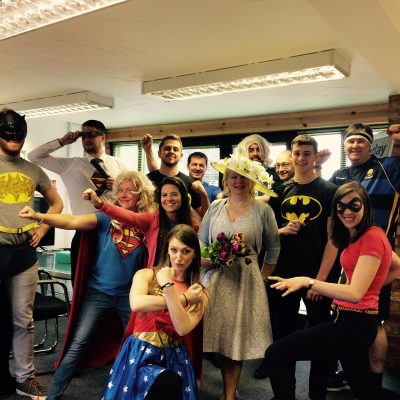 Superheroes Promote Car Seat Safety In Support Of Child Safety Week
---
In support of child safety week this year, members of the JMDA team dressed as their favourite childhood superheroes to raise awareness of child safety, in particular the importance of correctly fitted child car restraint systems.
JMDA Design Ltd are the leading consultancy for Child Restraint System (C.R.S.) design, development and compliance. Besides child car seats, the team are also passionate about designing practical juvenile products such as strollers and high chairs.
Child safety week ran from Monday 5th to Sunday 11th June 2017 and was organised by the Child Accident Prevention Trust. This year's campaign aimed to raise awareness of the risks of child accidents and how they can be prevented. Families, communities and professionals were asked to show their support of the campaign by sharing experiences and any practical knowledge which would help to prevent child accidents. As the leading consultancy for Child Restraint System design, development and compliance and with over 25 years' experience of the industry, JMDA Design are perfectly positioned to promote car seat safety to the wider community.
Nicolas Pasquier, Senior CRS Designer at JMDA Design Ltd explains 'The safety of children and babies is at the very heart of our product design. Child safety seats are seats designed specifically to protect children from injury or death during collisions on the road. It is essential they are used appropriately and fitted correctly and it's important we get this message across to as many parents and carers as possible.'  He adds, 'The team are always happy to support campaigns that aim to protect the safety of children. Child Safety Week this year was no exception, the team are not ones to shy away from a bit of fun and thoroughly enjoyed dressing up as their favourite superheroes!'
JMDA are proud to be winners of a prestigious Red Dot Award for their design of YKO SMART CRS. The use of a carbon fibre reinforced polymer (CFRP) panel provides additional strength to reduce the seat bending forward and warping the structure during impact. The use of Thermo-chromic fabric, which temporarily reacts to heat exposure and recognises if a child is suffering from heat exposure. With ever increasing demands to provide babies and children the best possible start in life, new innovative products and technologies to protect their safety are critical. Child safety week is the perfect opportunity for JMDA to demonstrate their passion for child safety. Besides dressing as their favourite childhood superheroes, the team promoted the use of car restraint systems through a series of informative and engaging social media posts.
For more information regarding JMDA's design of child restraint systems, please call +44 (0) 1386 426100 or alternatively email [email protected].