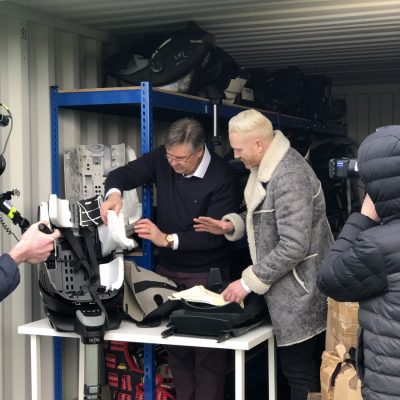 Car Seat Recycling Mission Gains Support
---
On Global Recycling Day 2020 we are pleased to announce that our car seat recycling mission is gaining support. Two weeks on from appearing on the BBC One Show, JMDA's mission to raise awareness and support for finding a viable child car seat recycling scheme, gains support from some leading names in the industry.
Derrick Barker Co-Founder of JMDA Design and the driving force behind the new initiative KOOL (Keep Out Of Landfill) Recycle, explained in his recent interview with Iwan Thomas on the BBC One Show, how the main issue is not whether a car seat can be recycled, the main challenge is the logistics to collect and deliver car seats to the waste management facilities.
JMDA Design are now in talks with Cosatto, Mainetti and Smyths Toys, to help address the problem of car seat recycling, with the aim of moving the project forward.
Andrew Kluge, Chief Executive Office at Cosatto, joins the project and states, "As an established supplier of child car seats, here at Cosatto, we have followed closely the work that JMDA have done to try and resolve the issue of millions of disused car seats going into landfill. It is a thorny problem with numerous challenges to make it work commercially without affecting the product cost to the consumer.  The Cosatto team is passionately committed to finding a way to crack this problem and are actively engaged with various parties to make recycling these old seats a reality. Watch this space!".
Also a statement by Mainetti, shows they're already actively addressing an efficient car seat recycling scheme saying, "CarGoSeat addressed sustainability by ensuring thought was taken into account from product design stage. Being as it is a major parental concern the impact of consumer products on the environment Mainetti wanted to change the way car seat where traditionally disposed of.  When families have outgrown the need for the seat, we have a free of charge service already in place, where we take full care of its recycling when returned to you lessoning the impact on the environment, whilst tackling an important concern over landfill and freeing space in garages up and down the country!".
As additional support from the industry grows, JMDA Design are remaining positive that car seat recycling will soon be common practice and help reduce the amount of waste going to landfill.
For further details about JMDA and their KOOL Recycling campaign visit https://koolrecycle.co.uk/, call +44 (0) 1386 426100, alternatively email [email protected].